Bakewell Baking Festival – 14 to 16 August 2015
---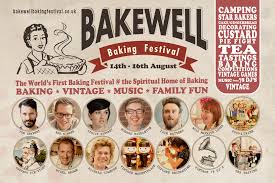 Baking and comedy have always gone well together, from Jo Brand and her cake hole to Mel and Sue and their soggy bottoms, and the world's first baking festival in the home town of a certain tart (aka the Bakewell Baking Festival) agreed combining a day of all things baking with side-splitting comedy on the Saturday of this years' 14th to 16th August festival.
The Saturday, which I bribed my boyfriend with the possibility of cake samples into coming with me, included demonstrations from Bake-Off legend contestants Howard Middleton (aka custard-gate victim) who entertained with camp charm but has not yet converted me to gluten free baking or baking with lavender, and Iain Watters (aka baked-Alaska-gate victim) and Claire (kicked out first in last years' bake-off) who chaotically baked Bakewell Baked Alaska's (what else could they have cooked) whilst giving insight into the making of the show, as well as Fabulous Baker Brother and Channel 4 cookery star Tom Herbert who got his daughters to do some of his work for him as he got us all to kneed shoulders whilst he tried not to set fire to the kitchen making soda bread and homemade butter.
Other cookery demonstrations on the Saturday came from Nigel Brown, Rob Taylor from the Welbeck Bakery, raw food expert Kathryn Johnson, tea and coffee expert (though I'm one of those freaks who doesn't drink either) James Pogson and Sheffield's own sugar-craft expert Nicky Fuller.
But were is the comedy you ask? Well after a day of baking, the main tent was cleared and turned into a comedy club (though sadly those who had paid to go to the festival had to purchase an extra ticket for the evening but it worked out at only £2.50 a comedian if booked in advance which is a small amount of bread to pay for a good laugh on a Saturday night in Derbyshire).
On the comedy line-up was Barbara Nice, a mum of five from Stockton, comic and star of That Peter Kay Thing, Phoenix Nights, Max and Paddy's Road To Nowhere. The crazy aunt you find slightly embarrassing but very entertaining, Barbara got the audience joining in a singalong before crowd surfing and getting everyone outside playing "What's the time Mr Wolf" in a pitch black field.
Joining Barbara were winner of the 2013 Buxton Fringe Award for Best Comedy Individual Wes Zaharuk, who was the embarrassing uncle to Barbara's aunt, who you can't resist spending time with, even if it involves cheesy magic tricks, comedy props and unexpected nudity.
Unadvertised compere for the evening was the Somerset comedian Chris Brooker, an anti Michael McIntyre comedian/stroke red-headed Game of Thrones wannabe, who charmed the audience with his gentle comedy and wit.
If you decided to avoid me (I won't take it personally) and go on the Sunday instead (though you would also have missed out of the fab bakers and comedians listed above) you will make me slightly jealous by seeing one of my favourite ever Masterchef finalists Stacie Stewart (her cookbook Stacie Bakes which I brought at the festival as well as her style are brilliant), winner of the first series of The Great British Bake Off Edd Kimber, Ms MarmiteLover (love both her and the yeast product), chocolate chef David Golubows, baker Richard Cowburn, the phenomena that is the Clandestine Cake Club, the Oscars of the baking world The Food Assembly and, last but not least, tea expert Anna Stasinska.
Of course the whole weekend wasn't just about demonstrations, comedy and gates (of the custard and baked Alaska variety), which entertainment to keep people of all ages and culinary abilities catered for through Pride & Prejudice inspired custard pie fights (you had to be there to believe it), baking competitions, afternoon tea, Indian bread making (sponsored by Maazi Restaurant), cupcake and gingerbread decorating (sponsored by Bloomers of Bakewell) and book signing (sure I can find room for another cook book in my cook book cupboard). 
Not forgetting the Matlock Brass Band, lots of interesting stalls selling all things baking (including yummy samples that led me to buy chocolate orange cake mixture and enter the prize draw at A Baking Thing and delicious Portuguese custard tarts from Cossack Cuisine, as triple vintage-ness in the form of 78 DJs, car displays and games.