Interview – Festival of the Spoken Nerd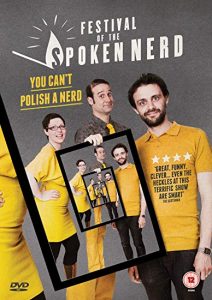 To coincide with the release of their latest live show You Can't Polish A Nerd on DVD and floppy disc I was delighted to interview one third of the Festival of the Spoken Nerd trio Helen Arney about all things science, nerd and comedy.
Me: For people who haven't come across the Festival of the Spoken Nerd before what do they need to know about you?
Helen: We're three stand-up comedians with science and maths backgrounds, who all met doing nerdy comedy shows at the Edinburgh Fringe. Rather than eliminate each other from the competition, we decided to work together to make the kind of science comedy shows we wanted to be watching on stage ourselves. Eight years later, we're still making them, and it seems like other people like them too!
Me: Why do you think science and comedy work so well together?
Helen: I believe that both are trying to make sense of the world around us by digging around under the surface to see how things *really* work – and sharing their answers with whatever audience will listen to them. Comedians do it with jokes, but we do it with jokes, songs AND science experiments which makes it even more fun.
Me: What can we expect from your new DVD You Can't Polish a Nerd?
Helen: We think it's our best show yet. There's plenty of science, songs and spherical geometry, featuring a dozen different parts put together including new uses for a science microwave, infinite high fives created with a spherical camera, and a new version of Tom Lehrer's "Elements Song" with all the latest additions to the Periodic Table included. Of course we end it all with an all-singing, all-dancing, all-lasering finale that pulls the whole show together in a Total Eclipse Of The Nerd. And we have the best value DVD in the world, because the only extra – our DVD Unboxing Video – is infinitely long. You can watch it (forever) here: https://youtu.be/BnnmA2klBN8
Me: What made you decide to go old school and release You Can't Polish a Nerd on floppy disc and has the format received a lot of pre-orders?
Helen: Yes, we've almost sold out! There's only 227 disks in the set, and we've only made one single set. Each disk one has an individually numbered 30 second chunk of the show in unspeakable low resolution to fit onto the 1.44MB file size limit. Someone has already started a google doc and a campaign on twitter to collect the names and locations of everyone who has bought a disk, so they can arrange an epic meet-up-and-watch party with a row of retro disk drives and see the whole show in the floppy format. It's over here: https://t.co/X2egRvufh2
Me: What's the funniest thing that happened on or off stage on the You Can't Polish a Nerd tour that you weren't expecting?
Helen: Probably the moment I put my daughter's plastic toy microwave inside the real stage microwave, instead of a bar of ivory soap… Steve still hasn't forgiven me for that.
Me: Are there any experiments you would love to carry out on stage but for safety, legal, braveness or other reasons have not yet been able to?
Helen: Nope, we always find a way to make things work. That's the misunderstanding a lot of people have about Health and Safety guidelines – they are there to make things possible AND keep everyone safe, rather than stop things happening and ruin everyone's fun.  
Me: If you could have any scientist, mathematician or comedian, living or dead, assist you with an experiment who and what experiment would you choose and why?
Helen: Absolutely definitely it would be Hertha Ayrton. She was the most interesting British inventor that you've probably never heard of. Hertha founded the first all-female volunteer firefighter troupe, was lifetime penpals with Nobel Prize-winning scientist Marie Curie, and would do public demonstrations of live electricity experiments that scared the absolutely cr*p out of everyone in her audience in the early part of the 20th Century. What a legend! I got to make a programme about her for the BBC last year, and you can hear all about her awesomeness first hand here:   https://www.bbc.co.uk/programmes/b09k6pn1
Me: Helen, whilst singing your famous elements song, have you ever accidentally missed an element out and did anyone in the audience notice?
Helen: Not on tour, but at our DVD launch in October I managed to mess it up completely and missed an entire verse. Luckily the audience on that night was the kind of audience that knew all the words and helped get me back on track. Phew!
Me: What's coming up next for you all both as the Festival of Spoken Nerd and individually?
Helen: As Spoken Nerd we're having a little bit of a quiet year to recover ourselves after producing 4 tours, 3 DVDs, 2 BBC radio series and a book over the last few years. There might be a podcast starting soon, and there's always bits and pieces happening which we let people know about on our newsletter (sign up at fotsn.com) and via twitter @fotsn. I have some really fun collaborations coming up in 2019, like writing a new family science orchestral concert show for the London Philharmonic Orchestra, and working with artist Yu-Chen Wang on a commission about particle physics research funded by CERN. Plus training my toddler to be the youngest female British astronaut is keeping me pretty busy at home. Steve and Matt have hella videos going up on their YouTube channels all the time, and both have books out in March. More about them at fotsn.com/shop   
Me: And finally, apart from nerds what else would you advise not polishing?
Helen: In the spirit of experimentation, we'd suggest you give everything a go. Except possibly potassium. And Caesium. Maybe Sodium too. Basically, don't polish alkali metals. They will burn your hand off.
For further information on the Festival of the Spoken Nerd including to buy their last live show on DVD or floppy disc visit https://festivalofthespokennerd.com.