Message in a Bottle Monologues – DINA, 25 February 2023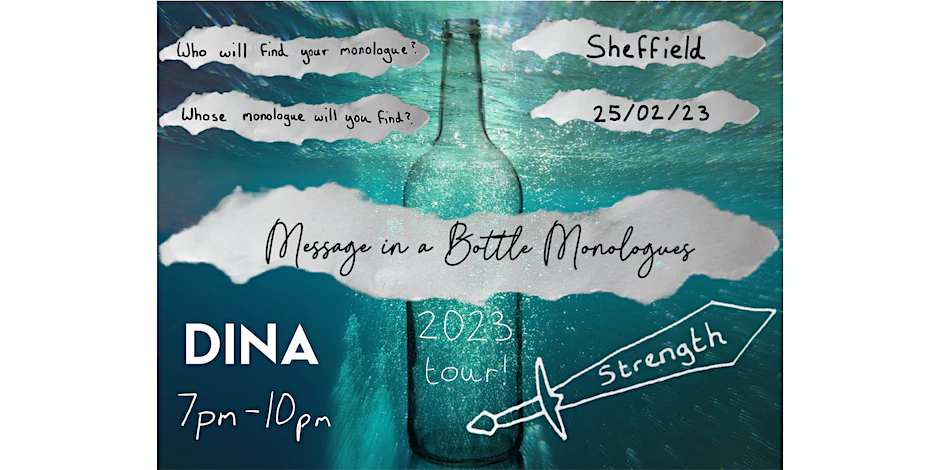 Review by Jacob Bush.
Message in a Bottle returns to DINA for the third time, this time as part of a UK tour. Another eight writers have cast their messages out into the sea to find out who will find them and perform them.
Alice Connolly, the Producer of Message in a Bottle, returns to host the evening. She does a fantastic job as always, this time poised with several creative ways to decide which order the monologues will be performed in. There is just enough audience participation for it to be a fun evening, whilst still allowing space for introverts amongst us not to get too involved.
Ewan Fellows' monologue Peter Pan Syndrome opened the evening's proceedings, and Ross Cawton brought Fellows' words to life brilliantly. He demonstrated some good comic timing in his performance. He was completely engaging and gave a very relatable performance of a very relatable piece of writing.
Natalie Yates gave a lovely performance of Rosie Carnall's monologue Hard Questions. Yates had the audience held tightly in the palm of her hands – you could have heard a pin drop.
Sophie Wright's monologue A Date with Death was very topical and moving. Annabel Pinchemain brought to the life the conflicts of the young nurse fantastically, and it really highlighted the need for more investment on the ground in our hospitals.
Gemma Windle performed Beverley Ward's The Show Must Go On very well, whilst Kerry Frater's performance of Lee Pollard's monologue Sleep Tight My Son was beautiful. Charlie Richardson's monologue Pop the Kettle On, as performed by Rebekah Austin, was brilliantly heart wrenching. Austin brought a lovely warmth to the night's proceedings. Rurik Seven's performance of Sarah Carratt's No Right Turn was hilarious, whilst touching on some sensitive issues. Seven found the right balance between taking seriously the topics at hand, whilst getting every laugh he could.
The highlight of the evening was Kellie Flatley performing Hannah Pamplin's monologue Job Interview. The writing was very funny and relatable, which was only enhanced by Flatley's exceptional comic timing. The situation depicted was entirely believable and it certainly showed some of the best comedy comes from everyday situations that we all find ourselves in.
Message in a Bottle continues on tour with dates in Nottingham and Leeds. Both venues have different sets of actors and writers, so be sure to catch this wonderful celebration of local up and coming talent at one of the upcoming dates. After selling out in Sheffield, I'm sure the show will return to the Steel City as well, hopefully in a bigger venue to let more witness this celebration of fantastic talent.