Avenue Q – 20 October 2015, Winding Wheel, Chesterfield
---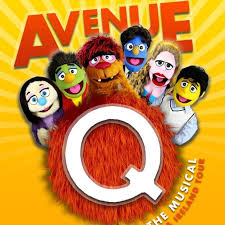 As someone who grew up loving the Muppets (and Fraggles) but for whom other puppets just don't appeal, I was a reluctant audience member for Avenue Q tonight, but as a supportive girlfriend to a puppet fan that all changed when I enjoyed an evening in the company of Kate, Rod, Trekkie, Princeton and, of course, Lucy the Slut, at Chesterfield's Winding Wheel theatre this evening.
Winner of three Tony awards, Avenue Q is a laugh-out-loud adult musical that combines humans and puppets in it's own unique way to tell the story of recent college graduate Princeton who moves into a shabby New York apartment on Avenue Q, where he meets a group of colourful characters, including the girl next door, a Republican, an internet sexpert and a slut, who help him discover his true purpose in life.
Avenue Q isn't just about the puppets, praise also needs to go to their human co-stars including Sarah Harlington, Richard Lowe, Stephen Arden, Richard Morse, Arina Li, Etisyai Philip, Jessica Parker, Michael Woolston-Thomas, Douglas Walker, Felicity Wright and Cleopatra Joseph who not only shine as comic musical actors in their own right, but work effortlessly with their puppet co-stars with their love for what they do pouring out of them on stage.
We also can't forget to who created and made the show what it is without stepping foot in front of the audience, but none the less injecting gallons of comedy and musical magic, including, to name but a few, puppet coach Nigel Plaskitt and puppet designer Paul Jomain, without whom the felt residents on the New York suburb wouldn't come alive; Robert Lopez and Jeff Marx, who between them came up with the fantastic music and lyrics; and the female in charge of successfully directing humans and puppets alike, Cressida Carre.
The band shouldn't be ignored either, adding to the contemporary Broadway magic of the show, including Daniel Griffin and Dean McDermott on keys; Steve Blythe multi-tasking on saxophone, flute and clarinet; Mike Dunne and guitar; on bass and double bass Sam Fluskey; and on drums and percussion James Newton.
But as a puppet skeptic what did I really think of it? I genuinely loved Avenue Q, having a massive grin on my face throughout from the opening Sesame Street style animations to the cheesy but very sweet finale, laughing out loud regularly along the way. Puppet nudity and sex gave me one of my biggest laughs of the evening, alongside the lyrics of my favourite songs including "If you were gay" and "Everyone's a little bit racist". 
But for me the show wasn't all about the comedy and tacking the issues of porn, homelessness, charity and finding a purpose, at it's heart it was a romance leaving me emotionally attached to Kate Monster and relating to the show's ballads, especially "Mix Tape".
Avenue Q is on at the Winding Wheel until Saturday 24th October before continuing its extensive UK wide tour (pretty much guaranteed to be coming somewhere near you) at the Richmond Theatre, Surrey from 27 to 31 October; Grimsby Auditorium from 3 to 7 November; Charter Theatre, Preston from 11 to 14 November; Woodville Halls, Kent from 17 to 21 November; New Theatre, Cardiff from 25 to 30 January; Hornchurch Queens Hall from 1 to 6 February; Bristol Hippodrome from 8 to 13 February; Theatre Severn, Shrewsbury from 16 to 20 February; Empire Theatre, Liverpool from 22 to 27 February; Theatre Royal, Wakefield from 29 February to 5 March; Belfast Grand Opera House from 8 to 12 March; Wimbledon New Theatre from 14 to 19 March; Regent Theatre, Stoke from 21 to 26 March; Aberdeen Performing Arts from 29 March to 2 April; Loughborough Town Hall from 4 to 9 April; Mayflower Theatre, Southampton from 11 to 13 April; G-Live, Guildford from 19 to 23 April; Empire Theatre, Eden Court, Inverness from 26 to 30 April; Palace Theatre, Manchester from 3 to 7 May; King's Theatre, Edinburgh from 9 to 14 May; Milton Keynes Theatre from 16 to 21 May; Marina Theatre, Lowestoft from 23 to 28 May; Northcott Theatre, Exeter from 30 May to 4 June; and, last but not least, Embassy Theatre, Skegness from 7 to 11 June.