Footsteps Theatre's 12 Days of Christmas! – 10 December 2022, Library Theatre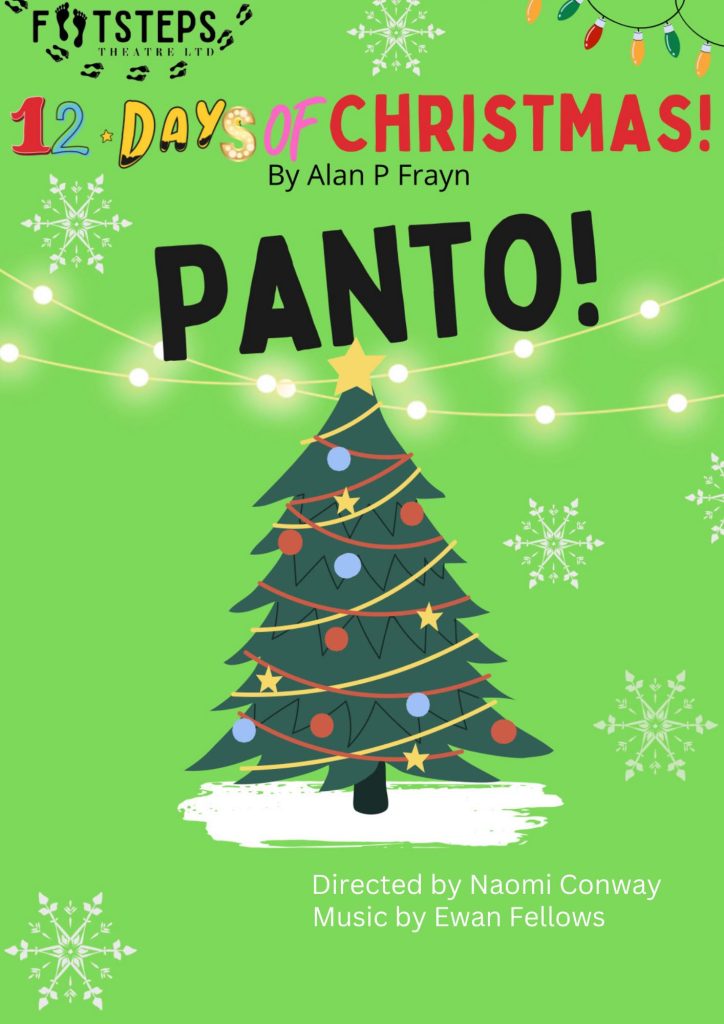 Review by Jacob Bush.
Hidden beside the Lyceum Theatre and underneath Central Library in Sheffield, the Library Theatre is found. Footsteps Theatre have taken over this weekend with their pantomime 12 Days of Christmas. With a script by Alan P Frayn, it tells the story of Dame Gertie, her son Izzy and her daughter Suzi as they have to head on an adventure to save Christmas.
It's not very often you go into a pantomime not knowing the story in advance so I was interested to see what Frayn had come up with. The story follows the standard panto conventions – there's audience participation (almost too much at times), a working girl who falls in love with a handsome prince and a few comedic routines. There are some funny jokes but most of them fall flat on an audience made up of primarily under 7s. The structure does also begin to get a bit repetitive, especially as the set remains for the same throughout for this production despite the show travelling to different places across the world.
Pantomime is one of the hardest genres of theatre to pull off and despite the shortcomings of the writing, the cast and creative team have put on an admirable attempt. Naomi Conway directs the show and she does a good job at keeping the piece the moving and keeping the audience engaged. Ewan Fellows has rewritten the lyrics to some well-known songs for the piece which are fun. There are many Christmas songs included – this is probably the most Christmassy panto you'll ever see! It is a shame that the cast don't have individual microphones because you often can't hear the words people are singing which I'm sure are very witty and could get more laughs.
Ewan Fellows also plays Dame Gertie and his performance is terrific. He completely understands the genre and has the audience in the palm of his hands from the off. He gets an audience joining in quickly who previously seemed to be a little quiet. Jamie Windle is equally fantastic as Izzy. He brings a huge amount of energy to the production and the audience was completely enthralled with everything he did. It was a shame this production didn't have more opportunity for slapstick comedy because it seems like something Fellows and Windle would thrive at together.
Bethany Bell is lovely as Suzi and she has very believable chemistry with Dylan Galliah as the Prince. Galliah is just as dashing and charming as you'd expect from a prince. Dom Bampton as Klampit and Hollie Snowden make a great comedic duo as Klampit and Stampit. They don't add a huge amount to the plot but they are entertaining. Snowden has particularly strong comic timing which is a joy to see.
Phillip Hadley as Wizbad is superb. The audience of young children love to boo him (almost too much, stopping him getting his dialogue out!). It is in moments of audience interaction like this that you realise the value of having microphones in live theatre. He is wonderfully evil and is fully committed to the production, despite being significantly older than most of the rest of the cast. Robyn Elbrett plays opposite him as the Fairy and gives an outstanding performance. The audience listen closely to her every word and her diction is impeccable. She adds a heap of energy to the show and she is great fun to watch.
12 Days of Christmas is a fun show, as demonstrated by the children in the audience screaming at the top of their voices. It's not a flashy and spectacular production and nor does it try to be. It is a lovely pre-Christmas treat and a lovely intimate venue in the heart of Sheffield.