Tell Me on a Sunday – 19 March 2016, Winding Wheel, Chesterfield
---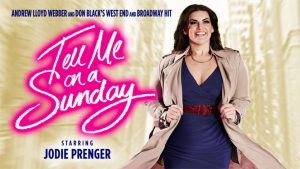 Although I am in no way a fan of Andrew Lloyd Webber musicals, as an English girl who loves the 1980s and (before meeting my boyfriend) endured years as a single girl "Tell Me on Sunday" has always appealed to me, and with my first ever visit to New York earlier this month, this desire to see it has grown, which is why I was delighted to find myself in the audience at the Winding Wheel, Chesterfield yesterday evening.
Of course the other appeal of this one woman show is actress and singer Jodie Prenger in the lead role, a talented female who won hearts all over the country when she won the role of Nancy in Oliver on the BBC's "I'll Do Anything" and hasn't stopped since, from playing the lead in "Calamity Jane" to supporting Paul O'Grady on his Radio 2 show and featuring in one of my favourite 00s dramas "Hustle".
For those of you not familiar with it, the song charts the romantic misadventures of Emma, a young English women in the Big Apple in my favourite decade (the 1980s). Brimming with optimism and seeking love and success, she weaves her way through the maze of the city only for her anxieties, frustrations and heartaches leading her to wonder whether she has been looking for love in all the wrong places (something us girls have all experienced).
Written by composer Andrew Lloyd Webber and lyricist Don Black, the show features breathtaking songs including the title track and "Take that look off your face". Thanks also needs to be given to the show's cast and crew, including the amazing live band, and the staff of the Winding Wheel.
Along with the two most well known tracks stand-out songs for me including the positive anthem "Dreams never run on time", the jazzy "Shelton Bloom" and as a romantic in love with my toy boy boyfriend "It's not the end of the world (if he's younger)" and the "Last man in my life". I also loved the comic contents of the first letters home to England.
Jodie's stunning voice made me well up from the first song as she spoke rarely a word and instead sung her way through 24 songs in an hour, with only a few quick costume changes, against a beautiful set of a late 70s/early 80s New York apartment in front of a miniature lit New York skyline (thanks to David Woodhouse and Howard Hudson) hiding the very talented band. 
The show left me with great respect and love for Jodie and her outstanding singing and acting talent and praying that her character Emma meets someone who loves her for who she is.
After the interval Jodie came back on stage, accompanied by a pianist, to sing "Secret Love" from her recent tour of "Calamity Jane" and her two favourite Andrew Lloyd Webber tracks, including a duet with her talented understudy Jodie Beth Meyer, in between answering audience questions (forgot to ask my own of what she hopes would happen to Emma in the future) and coming across as a genuine, lovely and hilarious woman, the type of woman all women should be.
From today the jammed pack tour of the show continues with so many venues that one is bound to be near you, including:
Regent Theatre, Stoke-on-Trent on Sunday 20 March
Empire Theatre, Sunderland on Monday 21 March
Cliffs Pavilion, Southend on Wednesday 23 March
Milton Keynes Theatre on Thursday 24 March
Waterside Theatre, Aylesbury on Thursday 31 March
Pavilion Theatre, Rhyl on Friday 1 April
Floral Pavilion, Brighton on Saturday 2 April
Buxton Opera House on Sunday 3 April
New Theatre, Cardiff from Tuesday 5 to Saturday 9 April
Theatre Royal, Brighton on Sunday 10 April
The Spotlight, Broxbourne on Tuesday 12 April
Marina Theatre, Lowestoft on Wednesday 13 April
Anvil Arts, Basingstoke on Thursday 14 April
Assembly Hall Theatre, Tunbridge Wells on Friday 15 April
Grove Theatre, Dunstable on Saturday 16 April
Mayflower Theatre, Southampton on Sunday 17 April
New Wimbledon Theatre, London on Monday 18 April
Nottingham Royal Concert Hall on Wednesday 20 April
Gordon Craig Theatre, Stevenage on Thursday 21 April
Grand Opera House, York on Friday 22 April
Southport Theatre and Convention Centre on Saturday 23 April
New Alexandra Theatre, Birmingham on Sunday 24 April
Manchester Palace Theatre on Monday 25 April
Grand Theatre, Leeds on Wednesday 27 April
New Theatre, Oxford on Thursday 28 April
The Spa, Scarborough on Friday 29 April
Bord Gais, Dublin from Sunday 1 to Tuesday 3 May
Darlington Civic Centre on Thursday 5 May
Theatre Royal, Wakefield on Friday 6 May
Gala Theatre, Durham on Saturday 7 May
The Sands Centre, Carlisle on Sunday 8 May
Edinburgh Playhouse on Monday 9 May
Hippodrome, Bristol on Sunday 15 May
Epsom Playhouse on Monday 16 May
Theatre Royal, Bury St Edmunds on Tuesday 17 May
Weston Super Mare Playhouse on Wednesday 18 May
Regent Theatre, Ipswich on Thursday 19 May
Royal & Derngate, Northampton on Friday 20 May
Wycombe Swan, High Wycombe on Saturday 21 May
Empire Theatre, Liverpool on Monday 23 May
New Victoria Theatre, Woking on Tuesday 24 May
Grand Theatre, Swansea on Wednesday 25 May
Theatre Severn, Shrewbury on Thursday 26 and Friday 27 May
Guild Hall, Preston on Saturday 28 May
Caird Hall, Dundee on Monday 30 May
Adam Smith Theatre, Kirkcaldy on Tuesday 31 May
De Montfort Hall, Leicester on Wednesday 1 June
Grand Theatre, Wolverhampton on Thursday 2 June
Redditch Palace on Saturday 4 June
Theatre Royal, Plymouth on Sunday 5 June
Octagon Theatre, Yeovil on Monday 6 June
Peterborough Key Theatre on Tuesday 7 June
And the tour ending at Churchill Theatre, Bromley on Wednesday 8 June.