Bill Bailey – 11 May 2019, FlyDSA Arena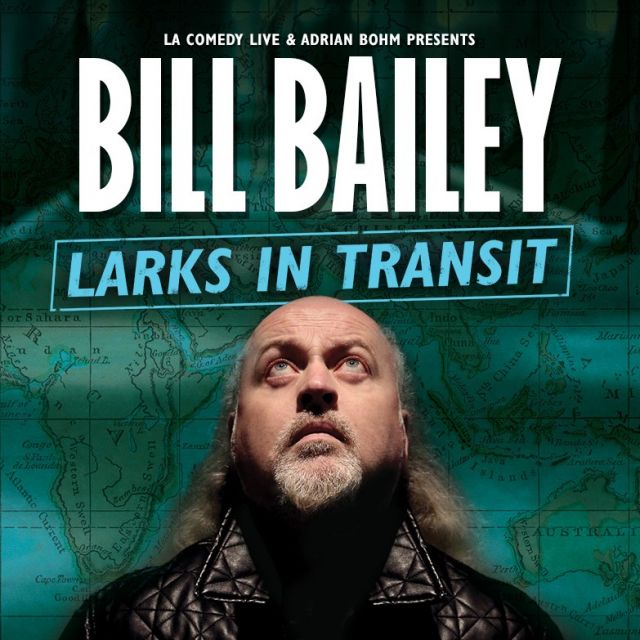 I have been a big fan of Bill Bailey since I saw his Half Troll live tour 15 years ago so was delighted when my boyfriend brought me tickets to his latest tour Larks in Transit for Christmas.
In Larks in Transit is described compendium of travellers' tales and the general shenanigans of twenty years as a travelling comedian. With musical virtuosity, surreal tangents and trademark intelligence, Bill Bailey promises to tackles politics, philosophy, the pursuit of happiness, death metal, ringtones… and an excruciating encounter with Paul McCartney.
As expected by any fan Bill Bailey only covered half of what was promised in the advertising, but this was accompanied by a lot more, all in his own unique style, combining his own variety of humour with so many instruments on stage, including a mystic bin, that he ran out of time to use them all to their full affect.
The evening was one of two distinct halves, in a good way, and divided by the interval, with the first being a great introduction to those who have only seen Bill Bailey on television to his humour and musical style, including, in a world where you might think comedians have run out of ways to tackle Brexit, US politics and social media, Bill Bailey still bringing his own special style to the subject, including a great Donald Trump impression that only he could achieve. And although my boyfriend pointed out during the interval that Bill did repeat one piece of old material, the fact that my boyfriend couldn't remember which bit shows Bill can easily get away with it.
The second half of the show was for die-hard fans of Bill Bailey, heavy metal and Germans (reminiscence of Eddie Izzard's German set before the Brexit vote) whilst also proving that Bill is as great as improv as delivering his planned, yet randomly, hilarious and obscure set.
Overall the Larks in Transit should not be missed and has plenty to offer fans of the comedian both old and new, although it may leave you jealous of all Bill's travels. It will also make you want to re-watch the "Grapes of Wrath" episode of Black Books, whilst eating Nutella, but that will never be a bad thing.
Bill Bailey's Larks in Transit tour will be coming next to Derngate Theatre, Northampton on 12 May; Plymouth Pavilions on 14 and 15 May; The Bath and West Showground on 16 and 17 May; Motorpoint Arena, Cardiff on 18 May; The Anvil, Basingstoke on 19 May; Victoria Hall, Stoke on Trent on 21 May; The Centaur, Cheltenham on 22 May; Birmingham Arena on 23 May; Motorpoint Arena, Nottingham on 24 May; Echo Arena, Liverpool on 25 May; Sunderland Empire on 28 May; Caird Hall, Dundee on 29 May; SSE Hydro, Glasgow on 30 May; Edinburgh Playhouse on 31 May; AECC, Aberdeen on 1 June; Cliffs Pavilion, Southend on Sea on 3 June; Oasis Leisure Centre, Swindon on 4 June; The Morningside Arena, Leicester on 5 June; Derby Arena on 6 June; First Direct Arena, Leeds on 7 June; Metro Radio Arena, Newcastle upon Tyne on 8 June; Guildhall, Portsmouth on 10 June; BIC, Bournemouth on 11 June; SSE Arena, Belfast on 13 June; and finishing the tour at 3 Arena, Dublin on 14 June.