Foil, Arms & Hog – 14 March 2019, Nottingham Playhouse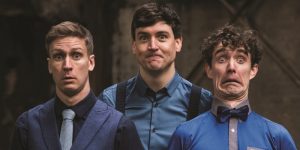 When my boyfriend brought me tickets for my birthday for a sketch show trio that I had never heard of, I admit I was surprised, slightly sceptical and realising I was probably watching the wrong things on YouTube.
When we took are seats in the auditorium for the opening night of UK leg of their new tour, I realised I needed to stop describing myself as a comedy fan, as the nearly sold out venue proved that comedy fans everywhere had discovered this hilariously talented trio ahead of me.
Before the trio had even properly started their show I had been thoroughly converted, thanks to the perfect combination of hilariously clever yet inoffensive humour, beautifully written and performed comedy songs with great harmonies that are the best I have heard from any comedy performers, natural talent to improvise with willing audience members and by the end displaying a great talent for summing up and bringing together a great two hours of hilarious sketches (though as they mentioned after one of the sketches, which I won't give away, half the audience didn't seem to get that specific sketch and I was within that half).
I must admit that after I got over the fact that one of the trio looks like he should be the far younger McCann brother, I also loved that the show had a signer throughout, who carried out her duties with sass and attitude and frequently became the four member of the trio. I not only kept one eye on her throughout, especially when words were mentioned in the sketches or performed at speed that were guaranteed to have an entertaining sign for, but was also reminded how much I would love to learn to sign myself, and if I do would love to do the signing on a comedian's tour.
In summary, I left Nottingham Playhouse thoroughly entertained, longing for more, planning to subscribe to their YouTube channel (www.youtube.com/user/foilarmsandhog) and longing for them to release an album of their musical numbers. I only hope that unlike other sketch show comedy trio I have loved in the past, though they definitely hold their own against them, Foil, Arms & Hog continue for a long time to come and don't split up due to relationship breakdowns or parenthood.
Tickets are still available for Foil, Arms & Hog UK dates at Bournemouth Pavilion Theatre on 15 March, O2 Apollo, Greater Manchester on 16 March; Kings Theatre Glasgow on 17 March; Birmingham Hippodrome on 28 March; Tyne Theatre & Opera House, Tyne and Wear on 29 March; The Hexagon, Reading on 30 March; Brighton Dome on 31 March; Eventim Apollo, London on 4 April; York Barbican on 16 May; De Montfort Hall, Leicester on 17 May; and Cambridge Corn Exchange on 18 May.
For further information on Foil, Arms & Hog visit www.foilarmsandhog.ie.