Interview – Hal Cruttenden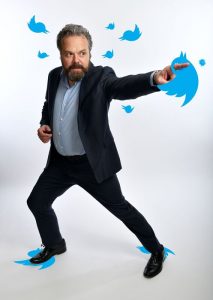 Ahead of this year's Edinburgh Fringe festival (I'm starting to get very excited), I was delighted to interview comedian and television regular Hal Cruttenden ahead of bringing his new show to the fringe in August and the Leadmill Comedy Club on 19th January next year.
Me: Hal, tell us more about Hal Cruttenden?
Hal: My middle names are Dominic Bart. I think my parents were stoned when they named me.
Me: How would you describe your comedy in ten words?
Hal: Funny (obviously), catty, surprising, angry, cleverish, chubby.
Me: What are you looking most to about performing at the Leadmill Comedy Club and coming to Sheffield in January next year?
Hal: Both my sisters married men from Sheffield. I'm looking to find myself a wife (don't tell my actual wife!)
Me: Your daughters named your tour Chubster, are there any names they suggested that you rejected and did they have any other influence on the tour?
Hal: I asked the kids what they thought of when. They thought of me and their first suggestion was 'I Hate You! You're Ruining My Life!' but I thought it was a bit negative. My kids have always influenced my comedy. I'm driven by the need to pay for their exuberant teenage lifestyles.
Me: Your tour kicks off at our favourite cultural celebration, The Edinburgh Fringe. What's your favourite thing about performing at the Fringe and why is it such a great place to kick off a tour?
Hal: First off, it's great to do a run of your stand up show in one room for a month. You can really relax into it and constantly find new things every night. The show really develops during the Festival. I also love the chance of going to see other shows. I'm in a play this year during the day called 'Brexit' (guess what it's about!) so may not have as much chance to do this as usual but the Fringe is also about testing yourself. The only bad thing about Edinburgh is spending August in Scotland – their weather, like their football, can be rubbish
Me: You will be on tour across the country for six months, what's the best and worst thing about being on the road for that long?
Hal: I suppose it's just great to get away from the people who called my show 'Chubster'. No seriously, I'm not constantly away for six months. I'm mainly going to and from my home in North London. That's why Britain is so much better to live in, as a comic, than in the US, Australia or Canada. The country's so small that you can very often drive home again at night.
Me: Many of your fans know you from your television work but if you could be on any television show as part of any line up (living, dead, discontinued or not yet commissioned) what and who would you choose and why?
Hal: I always say that I'd love to have Jack Lemmon's career. Basically any job he ever did, movies or TV, I'd like to have done it.
Me: And finally, apart from the tour what's up next for you?
Hal: Various TV appearances are in the pipeline and I'm waiting to hear on a new radio show that I'm hoping to develop. Apart from that, I'm just trying hammer the stand up into shape and lose weight so that my kids don't make fun of me anymore.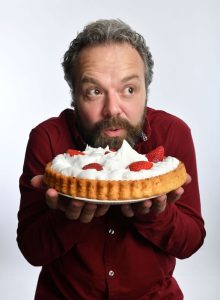 Hal Cruttenden will be performing at this year's Edinburgh Fringe in Chubster and in Brexit, both from 1 to 26 in the Pleasance Courtyard. For more information and to book visit https://tickets.edfringe.com. He will be bringing his tour Chubster to the Leadmill Comedy Club on 19th January 2019. For more information and to book visit http://leadmill.co.uk/events/hal-cruttenden.
For further information on Hal Cruttenden, including all of his forthcoming tour dates visit www.halcruttenden.com.