Interview – Tony Slattery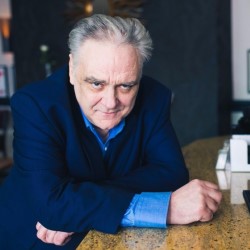 When improv and comedy legend Tony Slattery agreed to an interview to coincide with him performing at this year's Edinburgh Fringe, I was delighted as his show Slattery Will Get You No Where was the first show at the festival we booked tickets for. And when I got Tony Slattery's answers yesterday my happiness and excitement only increased. What follows is the funniest and most bizarre interview we have ever had for this website and one that truly only could have taken place with Tony Slattery himself. Enjoy!
Me: For those who haven't come across you before, tell more about yourself?
Tony: I'm Britain's largest collector of bukkake figurines and I make my own marmalade.  
Me: What are you looking forward to most about performing at this year's Edinburgh Fringe?
Tony: Sandwiches and worldwide Armageddon.
Me: "Whose Line Is It Anyway" was the show that made me fall in love with live comedy and improv and you were a massive part of that for me, but what's your favourite memory about being part of it?
Tony: Intense psychotherapy following my experiences (it didn't work, but hey ho).
Me: Your Edinburgh Fringe show we have booked for is "Slattery Will Get You Nowhere" but what is the most interesting place your name has got/or hasn't got you?
Tony: Peter Stringfellow's anus (RIP).  
Me: Your other show at the Fringe is called "Crimes Against Improv". Without giving away the show contents, what do you consider to be the top three crimes against improv?
Tony: Ryan Stiles; pretending you're improvising when you've actually rehearsed; Ryan Stiles again.  
Me: You appeared twice in the cult comedy, I wrote a third of my dissertation on, "Red Dwarf" including as a vending machine that threatened Arnold J Rimmer. If you could appear as a vending machine in any other sitcom to annoy any other character, who would you choose and why?
Tony: I would be a vending machine that dispensed Opal Fruits, as they were then properly called.  I think I would be a natural replacement for Barry Chuckle.
Me: How did it feel becoming the Rector of the University of Dundee and did you let the power go to your head?
Tony: I can't remember how it felt for a variety of reasons, and therefore I am not able to answer the second part of this question.  Independence and home rule for Edgware.
Me: I was lucky enough to see Paul Heaton, who you appeared on Celebrity Stars in Your Eyes as, in concert last year. You sadly didn't win but did you ever find out what Paul himself thought of your performance?
Tony: He attempted suicide. Luckily he was unsuccessful.  
Me: What's coming up next for you after the Fringe?  
Tony: Another two decades of obscurity.
Tony Slattery will be performing Slattery Will Get You Nowhere until Sunday 26 August at 1.15pm at The Stand's New Town Theatre – Lower Hall. For further information visit https://tickets.edfringe.com/whats-on/tony-slattery-slattery-will-get-you-nowhere.
Tony Slattery will also be performing Tony Slattery's Crimes Against Improv on Monday 20, Wednesday 22, Friday 24 and Sunday 26 August at 6.30pm at The Stand Comedy Club – Stand 1. For further information visit https://tickets.edfringe.com/whats-on/tony-slattery-s-crimes-against-improv.