Interview – Dirt Royal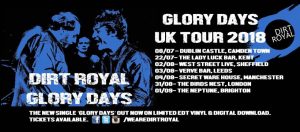 Ahead of performing at West Street Live, Sheffield this evening, as part of their Glory Days tour, we were delighted to interview punk rock and roll trio Dirt Royal.
Me: For those who haven't come across Dirt Royal before, tell us more about yourselves?
Charlie Russell: Dirt Royal consist of Loz hood on drums, Leon on guitar and vocals and me on bass and vocals. We formed late 2013 in Brighton and we pride ourselves on playing energetic three piece rock and roll.
Me: How would you describe your sound in five words?
Charlie: Five words uhmmmm … energetic, raw, organic, dirt, pop.
Me: Why did you choose to come to Sheffield as part of your seven date tour and what are you looking forward to most about performing in the Steel City?
Charlie: We have been playing Sheffield since our very first tour, Sheffield has something different about it. Deff one of the best places to play up north because of three reasons which should be the reasons you play anywhere up north … the people, the scene and the fish and chips.
Me: You describe yourselves as a punk rock and roll duo. Who else are your idols / do you recommend within the genre?
Charlie: We are in to loads of stuff but we are an indie/punk band that's what we are for better or worse. Within that genre I would say Libertines, Clash, The Cribs, Blink, Buzzcocks but then we also love Beautiful South, Smiths, Oasis, Beatles, Phil Spector…. the usual suspects I suppose.
Me: You chose to release your latest single Glory Days on my favourite format, vinyl. Why did you choose the format and why do you think vinyl continues to grow in popularity?
Charlie: Vinyl nowadays is what downloads were 14 years ago. Vinyl is great because it's treated with such pride, dignity which is how music should be treated. Our label Just Lust who released Glory Days only do vinyl and the label releasing our 2nd album end of the year (Time for Action) only do vinyl also. Vinyl is the now!!!
Me: What's up next after your current tour for Dirt Royal?
Charlie: So after this tour we are planning to release our 2nd album but I would like to get another single out in the meantime maybe 'lose our way' or 'when you say who knows' but I'll have to chat to the label and see what the plan is.
Dirt Royal will be performing at West Street Live, Sheffield on 2 August before continuing their Glory Days Tour at Verve Bar, Leeds on 3 August; Secret Ware House, Manchester on 4 August; The Birds Nest, London on 31 August; and finishing in their home town of Brighton at The Neptune on 1 September.
For further information on Dirt Royal like them on Facebook at www.facebook.com/wearedirtroyal or follow on Twitter at www.twitter.com/wearedirtroyal.
To purchase Glory Days on vinyl (definitely the best format to listen to it on) visit www.normanrecords.com/records/171286-dirt-royal-glory-days-waiting-for-the. Alternatively you can purchase it from itunes at https://itunes.apple.com/gb/album/id1397426418?app=itunes.