Leadmill Comedy Festival – Interviews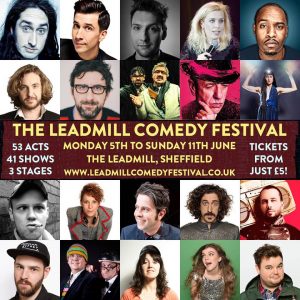 My favourite Sheffield comedy venue, the Leadmill, is holding its first ever comedy festival from Monday 5th to Sunday 11th June, featuring over 53 acts across 41 shows and on three different stages, including a the Blunderbus parked outside. To mark the occasion I am delighted to have interviewed several of the comedians taking part, including Chris Kent, Tom Lucy, Elliot Steel, Phil Jerrod ans Suzi Ruffell.
Me: What can we expect from your new stand up show?
Chris: My new show is a story telling show I guess. It's about me moving to the UK from Ireland and becoming a dad for the first time; trying to justify chasing my dream when I now have a genuine responsibility.
Tom: You can expect an hour of comedy. It's the best of the material I've written over the last four years I've been doing comedy so I'm quite proud of it.
Elliot: For it to be funny, I get a little bit personal in my new show but I think you have to be funny over everything else. In this show I talk about being raised by a mad left wing family and also the fun of being a twenty year old.
Phil: The show is called SUBMERGED, and I guess it's more shouting about the problems of modern life. It's a bit more topical than the stuff I usually do this year – I think because the world seems to be falling apart. I'm really happy with it so far though – I think it's the best show I've ever written. And there's a joke about WHSmiths in it – so you know… it's pretty edgy.
Me: What are you looking forward to most about performing at the very first Leadmill Comedy Festival and in Sheffield?
Chris: I'm most looking forward to performing on Bob's Blunderbus. It's a unique venue and lots fun.
Tom: Sheffield is always a great city to perform it. I've done the Leadmill quite a few times and always loved it. Can't wait to be back.
Elliot: Sheffield is just a cool city that has produced a lot of great bands so it's always fun to gig there. The Leadmill is one of those gigs you see in your diary and can't wait to do so doing a whole hour show there will be great fun.
Phil: I'm really looking forward to coming back up to Sheffield. I went to Sheffield Hallam Uni (the shit one!) so I always like to come back. Revisit all the places I threw up as a student. The Leadmill is also very special to me – I spent some very informative evenings there. I used to go to a night called Shag – which I always thought was painfully ironic.
Suzi: I am on an excellent mix bill show at the festival with Russell Kane, Tom Lucy and Andy Robinson, all great acts and lovely people so it should be a brilliant night of stand up.
Me: Why do you think comedy festivals are important?
Chris: I think comedy festivals are important because it gives me time to catch up with all my friends. They also offer a wide range of comedy so there is something for everybody and an opportunity to take a risk and find something wonderful or shit.
Tom: It's great for a city to have loads of comedians coming there and doing shows. What's not to love?
Elliot: They're important for people who like to watch comedy and for people to discover something new. However, with the state the worlds in I don't think they're not the most important thing and shouldn't be taken too seriously. It's a very western world thing a comedy festival I don't think Syria will be having one anytime soon.
Phil: Comedy festivals are great – we get to do longer sets to proper comedy fans, and you get to hang out with all your needy comedian mates and slag off other comedians, which is always good fun.
Suzi: Comedy festivals are great, I think it often gets people out to comedy who might not normally go to a club night, I think it feels like more of an event.
Me: How would you describe your comedy in five words?
Chris: Slow but very entertaining rollercoaster.
Tom: Hopefully funny but not sure.
Elliot: Just a guy being funny.
Phil: Uncooperative.
Suzi: Funny, funny, funny, hopefully funny.
Me: What's coming up next for you?
Tom Lucy and Suzi Ruffell are performing alongside Russell Kane and Andy Robinson at the Comedy Club Gala Show on Tuesday 6 June at 7.30pm and on the Blunderbus on Thursday 8 June at 7pm. One of the youngest and most exciting new professional comedians in the UK, Tom has won virtually every new act award in the last 18 months and is now performing at clubs all across the country and has been supporting Jack Whitehall on his sold out UK arena tour. Suzi has an innovative style and tells captivating tales of social ineptitude.
Phil Jerrod is performing on Wednesday 7 June at 7pm on the Blunderbus. Phil began his stand-up career underneath an Angus Steakhouse in 2012. Since then he has failed his PhD, walked out of his job in publishing and been entertaining audiences up and down the country with his elegant rants on the often unfathomable problems of modern life.
Elliot Steel is performing on Wednesday 7 June at 8.15pm on the Blunderbus. A conspiracy theorist and (now) adult Elliot will perform a new hour of stand up about life, the Illuminati and having to grow up fast. Fresh from his debut TV appearance on Comedy Central at the Comedy Store, he was a Leicester Comedy Festival Best Debut Show and Comedian of the Year Nominee.
Chris Kent is performing on the Blunderbus on Sunday 11 June at 7pm. Having emerged on the Irish comedy scene in 2009 then storming the clubs and festivals, award-winning stand-up Chris is now making a name for himself on the UK circuit, with four successful Edinburgh Fringe shows under his belt.
For further information on all the acts and shows at the Leadmill Comedy Festival and how to book (tickets start at only £5) visit http://leadmillcomedyfestival.co.uk.