Sister Act – 5 July 2017, Montgomery Theatre, Sheffield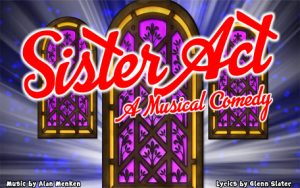 Growing up in a family where the original movie was a film favourite, I was delighted to be in the audience for the opening night of Easy Street Theatre Company's production of Sister Act, at Montgomery Theatre until Saturday 8th July.
Sister Act tells the story of Deloris Van Cartier, an aspiring singer in late 1970s Philadelphia auditioning to perform at her gangster boyfriend's nightclub. Deloris believes that Curtis is going to introduce her to a big producer, but is upset when he tells her she is not ready. Hurt and rejected, Deloris decides to break up with him, but when she goes to find him she accidentally sees him kill one of his cronies. Deloris runs to the police, who place her in hiding at a convent until Curtis is brought to trial.
At first, Deloris feels as though it will be the worst thing in the world, chafing against the constraints of convent life and an immovable Mother Superior, but once she is introduced to the struggling choir at the convent, everything changes. She finds that many of the nuns at the convent are not that different from her and that they are quite fun to be around. They help give her a bigger purpose in her life, showing her a genuine love and affection that was missing prior to her arrival at the convent.
The opening numbers performed by Deloris (Anjolena Richards) were "Take Me To Heaven" showing off Anjolena's Donna Summer worthy disco voice and"Fabulous Baby", which brought out the sassy soul diva in her and put her character rightfully centre stage.
If "The Book of Morman" had been about Catholics "Good to be a Nun" would have fitted in perfectly, with the nuns ensemble's singing full of perkiness and giving each member the chance to shine with their individual lines. Alex Flaherty as Curtis sang "When I Find My Baby" with a darkly jazzy soulful voice whilst his nephews providing the perfect backing group both in terms of harmonies and choreography. Rhys Quinn as Eddie in "I Could Be That Guy" (a song featuring blink-and-you'd-miss them costume changes from cop to "Saturday Night Fever" white suit and back again) displayed a Broadway love interest worthy voice singing with a sweetness that made you always want him to get the girl. The first act ended with "Raise Your Voices" and a reprise of "Take Me to Heaven" perfectly displaying what happens when disco diva Deloris teaches an out of tune group of nuns to become a soulful, angelic and well choreographed ensemble.
Kicking off the second act I guarantee that "Sunday Morning Fever" will be the only time you'll see a nun doing the splits or performing hip hop and rap, before in "Lady in the Long Black Dress" Jo McCartney releases his inner David Soul with the only thing missing being a medallion and a hairy chest. Delores performances of "Bless Our Show" stands out for stripping her voice back to its simplest and sweetest level. As one of life's non-brave, non-rebels, especially when I was younger, I could really related to the lyrics of "The Life I Never Led" performed with pure innocence and from the heart by Ella Jay Morley as Sister Mary Robert before Deloris's heart-felt "Sister Act" is the perfect anthem for all women who have a great group of women supporting them.
The stand-out performances in the show rightfully came from the two leads Anjolena and Katherine, whose relationship for most of the show reminded me of a female version of "The Odd Couple" with Anjolena playing Deloris with fabulous street sassiness and a don't mess attitude with a heart of gold underneath and Katherine as the Mother Superior highly successfully playing a character beyond on her years with wisdom, stubbornness and formality hiding a genuine fear of change and being out of control. Katherine also has the stand-out solo number of the show with her performance of "Haven't Got a Prayer" whose clever lyrics she sung movingly, beautifully and emotionally but also with comedy.
Other characters who deserve a mention include Alex who combined the classic 1970s gangster with a pinch of the "Witches of Eastwick" devil (a role I hope he some day gets to play); and his nephews TJ (Jacob Broughton-Glerup), Joey and Pablo (Tomas Baycroft) whose friendship was obvious and who performed their role with "Bugsy Malone"/"T-Bird" style slapstick and excellent comic timing. In addition all of the cast has to be praised for mastering and maintaining their Philadelphia accents, with the exception of Tomas who mastered and maintained his Spanish even singing in the language at one point.
Off stage additional praise needs to be given to the hard working director, choreographer, musical team and all of the back stage team, including the set designers whose minimal set not only reflected the minimalist lifestyles of the nuns but also helped make sure the show was all about the characters, and the conductor and live band whose wonderful playing brought the songs the and singing voices of the cast alive.
In a show packed with brilliant lines including "Someone shot a Smurf" stand out scenes for me included Curtis's nephews chasing Delores through the audience; the first time you hear the nuns sing at the Christmas mass when the cast's purposely bad singing made the nuns in the same scene in the film sound almost harmonious in comparison; and the scene where Sister Mary Robert and Sister Mary Patrick (Emma Nielsen) follow Delores into the bar where the freedom they suddenly find amongst the cheese steaks and disco lights has a feeling of "Unbreakable Kimmy Schmidt" about it and had the two sisters channelling their on screen counterparts.
"Sister Act" shows that all musicals should end with a hilarious slapstick chase in a nunnery, a nuns vs. gangsters disco caper, followed by a much longed for kiss. Performed brilliantly by the many cast members involved, the scene also led to Deloris and Mother Superior discovering they are not that different and can be friends after all and led easily into the finale song "Spread the Love Around", the ultimate sparkly feel-good ending to a musical that left the audience with massive grins on their faces after two and a half hours of pure entertainment.
Founded in 2009, Easy Street Theatre Company offers Sheffield's young creative talent the finest professional-grade theatrical training. With over 50 members, each year the company performs two large budget shows a year at some of Sheffield's most prestigious theatres. For further information visit www.easystreettheatre.org.
Sister Act is on at the Montgomery Theatre, Sheffield every day at 7.15pm until Saturday 8th July. Tickets are £15 (£13 for concessions) and are available online at www.sheffieldtheatres.co.uk/whats-on/the-montgomery-sister-act or on 0114 249 6000 or in person from the box office at the Crucible Theatre.