Lucy Porter "Consequences" – 15 August 2016, Edinburgh Fringe Festival
---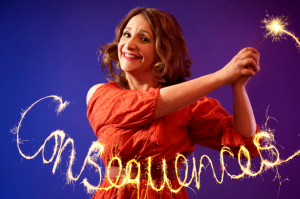 Lucy Porter and I both have something in common, which is that we've both believed that we're intolerant to gold even though others claim we can't be. This, the fact she is hilariously funny, shares the height difference issues me and my boyfriend have but in reverse, that my boyfriend has wanted to see her live for ages and that she was recently happily interviewed by me over Twitter (you can read the interview here) are amongst the many reasons that I brought us tickets to see Lucy in her brand new show "Consequences" at this years Edinburgh Fringe Festival.
"Consequences" is Lucy's gently hilarious look at getting older and thinking about your older and younger self, that will leave you thinking about how your ambitions, lifestyle and music tastes change. It also features the sweetest attack on the current political situation you can expect to find at this years' fringe, make you almost want to live in an 80s middle class sitcom and dig out those Jimmy Nail albums. 
Appealing mainly to the over 40s (sorry Lucy me and my boyfriend have a few years to go) and those of us who have ever read celebrity letters in magazines to their younger selves, some lucky audience members of that age group will get to enjoy a sherry, whilst if you look far younger you can look forward to some monster munch and being quizzed (you may want to start choosing a favourite A road. Lucy will even provide an insight into her husband's playlists (hope he forgives her for that) and the Eastenders security systems (I don't watch it so the BBC deserves everything it gets on that subject), in a show that will appeal to Lucy Porter fans everywhere.
Lucy Porter will be performing daily, apart from Mondays, throughout the Fringe at Pleasance Courtyard until Sunday 28 August at 5.30pm. Tickets range from £8 to £12 and are available in person from the box office, on 0131 226 0000 or at edfringe.com.
Miss out on seeing her during the festival, don't worry. Lucy Porter will be touring "Consequences" across the UK, with confirmed 2016/17 tour dates including: