Eurobeat – 15 August 2016, Edinburgh Fringe Festival
---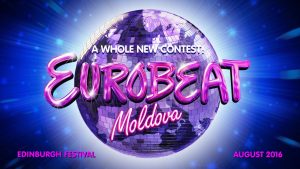 Since getting together with my boyfriend shortly after the 2013 contest, I have gone from someone who only watches the Eurovision Song Contest for a few minutes when accidentially channel hopping to someone who tolerates it to someone who will join in the scoring at Eurovision parties and will vote for my favourite song and now to someone who can easily be persuaded by their boyfriend to see "Eurobeat" the musical celebrating all things Eurovision at this years' Edinburgh Fringe Festival.
The show, which stars the ever glamourous Rula Lenska and Steps member Lee Latchford-Evans (a band whose every song sounds like a potential entry), promises to be an irrelevant, hilarious, sequin-soaked, exhilarating, high energy celebration of the annual contest. With the competition set hosted in Moldova and featuring 10 countries, us audience members were given the power to vote to determine that evenings winner.
A three minute technical delay didn't have any affect on the flag waving enthusiastic audience (your flag represents the country you are not allowed to vote for) before the show kicked off with everything you expect from the competition from the opening and closing host country themed numbers, to costume changes, fun facts, bad puns, camp and over serious hosts and even celebrities pretending to give the scores from their own countries (from the lovely Simon Callow to Penny Smith faking getting drunk on vodka for Poland).
Of course the most important part is the songs, and although crammed with subtle and not so subtle sexual innuendos, the talented song writers had picked up on the spirit of the annual competition, with acts ranging from power ballads to tribal folk and dance music to Bollywood, via vikings and dancing nuns, with even the current trend for lighting and screen affects reflected in the show. Lee even got to end the show with his new single (well the new single by the host he was playing), which can be downloaded from the show's website. 
Eurobeat shouldn't be missed by fans of Eurovision who don't take the show to seriously. High praise must go to the song and script writers, technical crew and group of singers/dancers who between them covered all the countries and the genres with talent and professionalism, even making Jedwood almost look good and tackling morris dancing.
With all money raised from the text votes going to charity, sadly my favourite from the Netherlands only came third, being beaten to first place by Norway but this has the potential to change every night of the show.
Taking place at Pleasance Courtyard everyday apart from Tuesdays from now until Monday 29 August at 9.45pm, tickets to the 90 minute show cost from £8.50-£15.00 and are available from https://tickets.edfringe.com/ or by telephone on 0131 226 000 or in person from the box office.