Lucy Porter – The Interview
---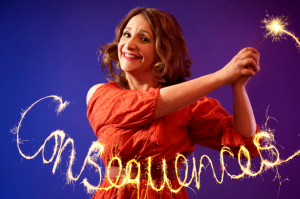 Ahead of her new show, which she will be performing at this years' Edinburgh Fringe Festival and touring throughout the country starting this autumn, the lovely and very funny Lucy Porter agreed to be interviewed for my blog.
Me – What's the best thing about performing at the Edinburgh Festival and why is it a great location to launch a new tour?

Lucy – I've been coming to Edinburgh in August since I was 18, and I still love the bustle and excitement of the festival. It's a great place to come with a new show because the sense of creativity in the city is contagious, and I always come up with the best ideas whilst performing there.
Me – What can we expect from your new show?
Lucy – It's called 'Consequences' and it's about how life can take you in different and surprising directions. I talk about what I expected to do with my life when I was 16 – I thought I'd be a war reporter or an indie band bass player with a classic car, but I've turned out to be a comedian who drives a Ford Fusion. I point out that the things we do can have unintended consequences, and it was quite nice of the country to vote the way it did in the EU Referendum recently and prove my point!
Me – We both believe we are allergic to gold. Do you have any advice for a fellow sufferer on dealing with this?

Lucy – Well it turns out that it's incredible rare to be actually allergic to gold, so well done if you are. If you're like me, you probably don't like gold much. I think it represents human folly as it's useless but highly prized simply because it's rare and appeals to peoples' vanity. People save we're all become self-obsessed and shallow, but the enduring value of gold proves that we've been that way since history began. I did a show all about Gold a few years ago, and at that time the price was at a record high. I scoffed at people who were buying gold then because I didn't think its value could rise any higher. Now I wish I'd defied my own advice and brought some as it's risen higher and higher ever since.
Me – My boyfriend is shorter than me. As someone who is shorter than their partner what advice would you give him?
Lucy – I would advise him to let you reach all the high up things. That's mostly why my husband and I stay together – he gets stuff off tall shelves, I rescue things that roll under the sofa. It works.
Me – What's been your career highlight to date?
Lucy – Winning Celebrity Mastermind for Children In Need. I was doing it for charity but to be honest I just really wanted to win for the satisfaction of winning. My specialist subject was Steve Martin, although I wanted to do "British confectionary of the late 20th century".
Lucy will be performing daily from Wednesday 3 to Sunday 28 August, apart from Monday 15 and Monday 22, at the Edinburgh Fringe Festival at Pleasance Courtyard at 5.30pm. Tickets range from £7 to £14 and are available in person from the box office, on 0131 226 0000 or at edfringe.com.
Miss out on seeing her during the festival, don't worry. Lucy Porter will be touring "Consequences" across the UK, with confirmed 2016/17 tour dates including: