Rich Hall "3:10 to Humour" – 29 May 2016, Pomegranate Theatre, Chesterfield
---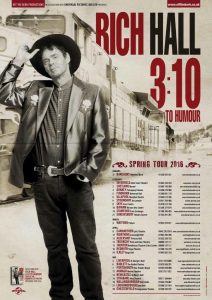 Since getting together with my boyfriend nearly three years ago (it's our anniversary on 7th June) and him introducing me to the joys of Rich Hall via "QI", we have been desperate to see him live and finally achieved this by being in the audience for the last night of his 3:10 to Humour tour at Chesterfield's Pomegranate Theatre (possibly the best name ever for a theatre) on Sunday 29th May.

For those of you who haven't come across this Montana native, cowboy shirt wearing, comedy legend before, Rich is known for his grouchy, deadpan style, absurd irony, perfect timing and rapid-fire wit combined with musical sequences, that leave his audiences hanging on to every word and note, whilst being as harsh about his homeland as the home of the venue he's performing at.
As an audience member four rows from the front Rich Hall and the gig were everything I could have wished for leaving me in stitches all night (with barely enough time to share a bag of Galaxy Minstrels with my boyfriend) as his two hour set covered everything from the US election (glad he's anti Trump) to advertising, gun law, marriage, children, restaurants and bears (I will never trust Yogi Bear ever again).
Unlike other gigs where comedians pick on the audience the front row had nothing to be scared of as those he selected had fun songs made up about them on the spot (see P.S.2. below) or got to be backing singing on his final number "Fur on a Stick". For the last few songs of the show Rich was also joined on stage by his road manager, who is also a very talented musician for a selection of songs covering Jimmy Hendrix to grey hound racing and trucking. 
Although this was the last night of the tour a DVD release is promised on the tour poster (though I haven't been able to track down a date for it) and Rich Hall has just announced details of another extensive UK tour later this year, which I would advise you to definitely be in the audience for, including performing at the:
P.S. Congratulations to Karl who proposed to his girlfriend during the gig, after Rich sang two comedy songs about them, Jane who said yes, and Rich who offered to play for free at the wedding if he can make it. Felt bizarre but lovely to witness this very special moment in the couple's relationship and I wish them long and happy lives together.