Sheffield University Theatre Company's Lights Over Tesco Car Park – 15 November 2023, Raynor Lounge, Bar One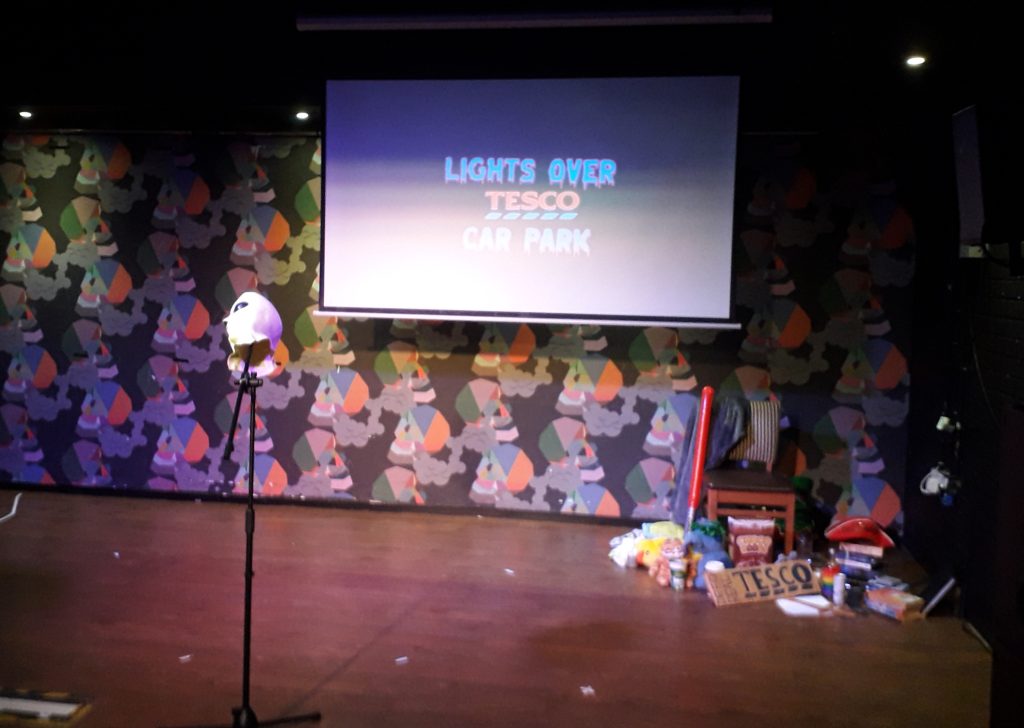 Review by Claire Taranaski.
SUTCO's Latest production should also be the production they take up to the Edinburgh Fringe Festival as it would fit in perfectly to the annual festival from the minute I stepped into the room in a bar setting that reminded me immediately of venues in the Scottish city to the very original show performed by four naturally comedic performers with plenty of audience participation (be careful how you try to accept a flying saucer sweet and with cast member you choose it from) in what felt like an original but always fun show that made you think about life on both this and other planets, the truth and non-truth and will make you look into the sky every time you are in a supermarket car park.
Starring Alex Chan (I agree liking "Doctor Who" does not mean you're a sci fi fan), Andrew Hurrell (guaranteed to have you rooting for his love life), Lizzie Salusbury ("I eat asbestos") and Alex Malkin (extra terrestrial dance perfected), whose naturally friendship and comedic chemistry shines through in a show that tells the story of Caitlin (not heard and until the end not seen) who reports that she saw lights over a Tesco Car Park in Sheffield and the cast and audience over the hour long show working out whether to believe her. The cast capture the need to go along with something, even if you are sceptical, if you are bored and your mates are going along with it too.
Via a variety of storytelling, possibly a whole new genre of scripted-improv (by Jack Bradfield and Poltergeist Theatre though if I hadn't known I would have believed this was superb improv made up by the four talented performers and the up-for-it audience members on the spot), great use of a screen, props, facts and of course David Bowie (Bowie makes everything better including this show which was fantastic already), surveys and statistics (spoiler even the Guardian has confirmed that 12 million Americans believe in lizard people) this is the most absurd and surreal performance, directed cleverly by Phoebe Cookson, I have seen from SUTCO and I would love to see more like it from this always talented company.
If this production of Lights Over Tesco Car Park does not make it up to next year's fringe please go out of your way to see it and experience this uniquely funny and original show and get the fun festival flying saucer feeling in November. To book visit Lights Over Tesco Car Park by Jack Bradfield & Poltergeist Theatre at Raynor Lounge (Next to Bar One) event tickets from TicketSource.