STOS Theatre Company's Barnum – Sheffield Lyceum, 14 November 2023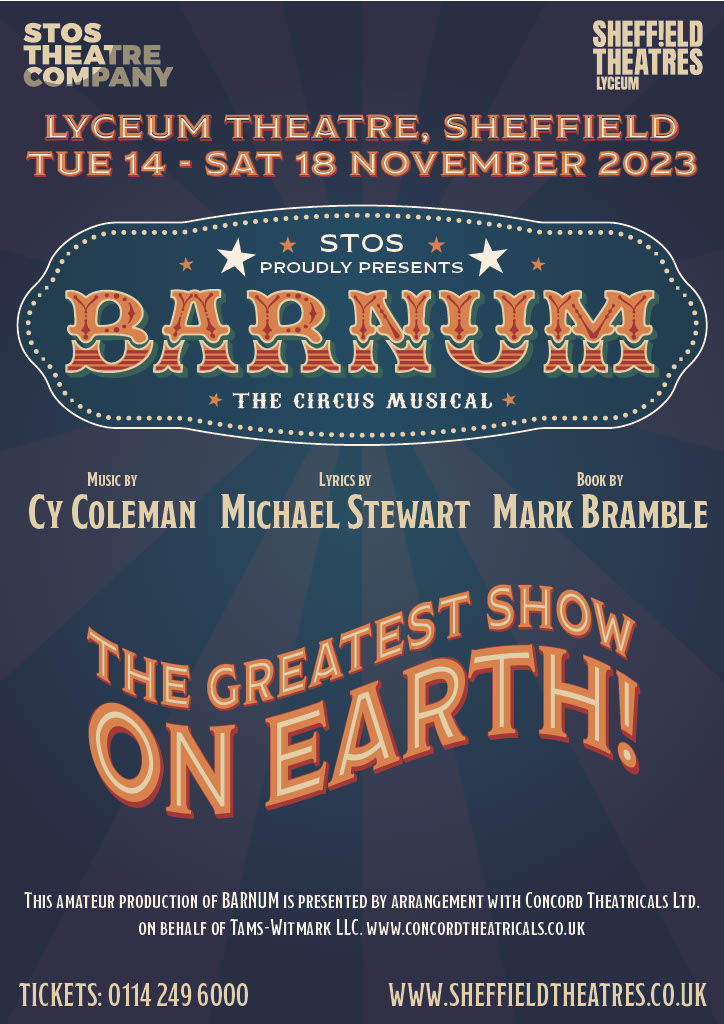 Review by Jacob Bush.
This year, STOS Theatre Company brings another ambitious musical to the Lyceum stage, packed full of circus tricks, colourful costumes and sets, fabulous dancing and a talented cast. Barnum tells the story of P.T. Barnum, the man who also lends his story to The Greatest Showman. We see Barnum's rise to fame and his fall, whilst trying to balance home life and work life – a struggle that seems just as relevant today as ever. 
Jill Beckett directs the musical this year, stepping up from being Assistant Director for a few years. She brings to life this challenging brilliantly and, despite seeing the show on opening night, you'd think it had been running for weeks. It was slick, the circus skills on display were polished, a lot of hard work has clearly gone into this show from all involved. Claire Harriott's choreography is energetic and adds a level of fun to the show, whilst giving space for more heartfelt moments as well.
Leading the cast as P.T. Barnum himself is Matthew Walker, who is recent years has become a household name playing dame in Handsworth and Hallam Theatre Company's pantomimes. His skill set lends itself perfectly to the role of Barnum. His vocals are tremendous and he is wonderfully charismatic and expressive as an actor, whilst also delivering the more emotionally charged moments very well. Opposite him is Gina Holmes as Charity Barnum. She does a great job at grounding the show in a level of reality, delivering some lovely vocals throughout. She is a joy to watch, and Holmes and Walker work together beautifully.
The show gives many people the opportunity to showcase their diverse range of talents in supporting roles as well. Joanne Shearsby is a particular standout as Jenny Lind, with vocals that soar to the rooftops effortlessly. Zach Rees shares his amazing dance ability as Tom Thumb, whilst Carol Wibberley is a brilliantly bonkers Joice Heth. Steve Mather commands the stage as The Ringmaster who narrates the show.
Barnum is great fun, whilst being far more grounded in reality than its counterpart The Greatest Showman. It has a wonderful range of musical styles from Cy Coleman and Michael Stewart, and doesn't hide away from some of the challenges that come with a career in the arts.
Be sure to catch STOS' production of Barnum this week at the Lyceum – the perfect theatrical treat before the panto season starts!