Top five shows to see this October
Along with our regular reviews from this month onwards we are also going to recommend in advance our top shows to see in Sheffield during the month ahead. So here goes, in date order, with October: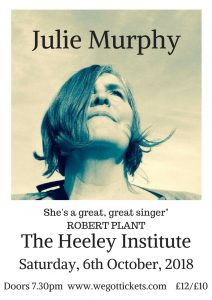 Julie Murphy – 6 October 2018, Heeley Institute
If we weren't at a musical festival this weekend we would be in the audience for this rare gig by an artist described as the artist's artist and loved by the likes of Robert Plant and the late John Peel. Catch her for this before she returns to her quiet life in Northern Wales. Tickets are £13.20 full price and £11 concessions including booking fee. For further information and to book visit www.wegotickets.com.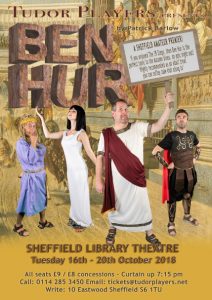 Ben Hur – 16 to 20 October 2018, Library Theatre
Always wondered how a film that had one of the biggest casts on record can be brought to life on stage with just four actors? Looking for an evening of hilarious epic comedy. On top of that we are being promised a real chariot race, an authentic sea battle with real water and a roman orgy that is suitable for all ages. We are both intrigued and excited by the prospect. Tickets are only £9 (£8 concessions). For further information and to book visit www.tudorplayers.net.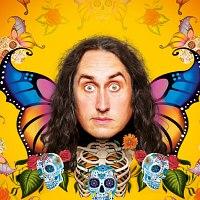 Ross Noble – 20 October 2018, Sheffield City Hall
I was devastated to be offered a spare ticket for this comedy legend and already be double booked. One of the funniest guys on the planet who makes every television programme he appears on 10 times more surreally and side-splittingly worth watching, every comedy fan should do their best to be in the audience for this show. And if you truly want to prove your worth remember to take Ross a present. Tickets are £28 including booking fee. For further information and to book visit https://sheffieldcityhall.sivtickets.com.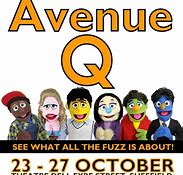 Avenue Q – 23 to 27 October 2018, Theatre Deli
If we could only watch one comedy musical for the rest of our lives this would probably be it. Yes it's an adult musical with puppets, but it also combines great songs, a great story and laugh out loud comedy, and it will not be long to you bond with the characters and forget they have humans attached. Whether you have not yet met the residents of Avenue Q or long to be reunited with them this show is a must. Tickets are only £15. For further information and to book visit www.southeymusicaltheatrecompany.co.uk.
Robin Hood: The Truth Behind The Green Tights: 24 to 27 October, Sheffield University Drama Studio
25 years on from the cinematic release of Men in Tights what better way to celebrate than with this comic re-telling of the story of everyone's, apart from the Sheriff of Nottingham, favourite outlaw performed by the winner by the winner of our best play (university company) and best new play SUTCO. Tickets are £5 and £6 in advance and £7 on the door. For further information and to book visit www.sutco.org.