Weird Al's "The Mandatory World Tour" – 3 October 2015, Birmingham O2 Academy
---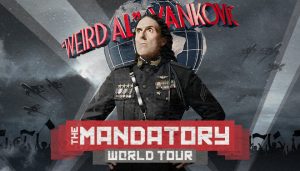 Loved by those cult followers who know him for his hilarious parodies of songs and for being a talented comedy song composer in his own right, with a career spanning five decades, this evening myself and my boyfriend had the honour of seeing 'Weird Al' Yankovic perform the first of four rare UK dates as part of his current world tour at the Birmingham O2 Academy.
 Following the biggest queue we have ever stood in the two hour show more than met our very high expectations from the start by Yankovic making his appearance by live video feed of 'Tacky' performed on the streets around the venue before climbing on to the stage via the first row of the audience.
The show then only got even better with everyone's favourite tracks spanning his entire career (from "Another One Rides the Bus" to "Word Crimes") performed via multiple costume changes (with the audience distracted by comedy clips featuring Yankovic himself and a host of well known faces) including the fat suit, a foil hat and a Jedi costume, accompanied by a band who were loving performing as much as he was, cheerleaders, Darth Vader and Yankovic's accordion.
 We left the gig in agreement with the man behind us who declared it the best show he'd ever been to and with the playlist below performed in Yankovic's own unique, talented, hilarious and very special way no one with a love of music and sense of humour could disagree.
Tacky
Lame Claim to Fame 
Now That's What I Call Polka! 
Perform This Way 
Dare to Be Stupid 
Fat 
First World Problems
Foil 
Smells Like Nirvana 
Party in the CIA / It's All About the Pentiums / Handy / Bedrock Anthem / Another One Rides the Bus / Ode to a Superhero / Gump / Inactive / eBay / Canadian Idiot 
Wanna B Ur Lovr
Eat It / I Lost on Jeopardy / I Love Rocky Road / Like a Surgeon 
White & Nerdy
Word Crimes
Amish Paradise
We All Have Cell Phones 
The Saga Begins 
Yoda
I urge fans new and old of Yankovic not to miss this rare chance to see him live in the UK as I can guarantee an unmissable evening of hilarious live music and the chance to see this comedic legend up close and personal.
If tickets are still available, the three remaining UK dates are Sunday 4 October at Eventim Apollo, London, Wednesday 7 October at The Limelight, Belfast and Friday 9 October at O2 ABC, Glasgow, with him in between heading to Vicar Street, Dublin on Tuesday 6 October.