Rocky Horror Picture Show Live – 17 September 2015
---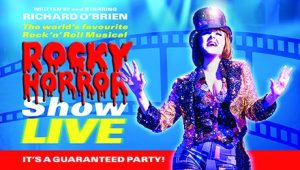 This evening at the Showroom, Sheffield (the location of my first date with my boyfriend 25 months ago) I lost my Rocky Horror Picture Show Live virginity.
And when it comes to lose this virginity I did it in style with a live satellite performance from London with the Rocky Horror Picture Show legendary creator Richard O'Brien, alongside my favourite fantasy uncle and QI legend Stephen Fry, everyone's favourite librarian Anthony Head (where's Buffy when he needs her), my favourite Young One and Bottom Ade Edmondson, my favourite Bake Off host and light/Late Lunch legend Mel Giedroyc and my favourite Spice Girl Emma Bunton sharing the role of narrator in a charity performance of the (40 years and counting) stage show live from the Playhouse Theatre in London, in aid the very worthy cause that is of Amnesty International.
 Now unless you have gone through life with no contact of any form with the outside world, you can't have had some contact with this classic rock and roll musical, but for me this contact is very limited consisting of a scene from the musical "Fame" and finally watching it just before midnight on my own (I was to ill to go out and celebrate with friends) on New Years' Eve a few years ago when I finally sat down and watched the film not knowing if the end was strange because it was strange or because I had a fever.
 So like Janet, I entered the cinema screen in the same way as I would enter Frank 'n' Furter's house with nervous anticipation and not knowing what to expect, with just the following rules to help me through:
Be prepared for audience participation (I love live performances but am definitely a culture wallflower so this would have to take some getting used to)
I don't have to dress up (I'm not a fancy dress girl either) but don't laugh at or criticise others outfits either (I only laugh at strange comedians I have paid to see but just to be on the safe side I talked my boyfriend out of wearing the corset he had previous worn to a performance of the show)
Don't throw anything at the screen (I don't normally even eat popcorn at the cinema so this was easy to manage)
Be prepared to at the very least participate in the time warp (I can't always get my left and right the right way round and have no coordination but don't think the rest of the audience will care)
And finally the golden rule I found in a guide for Rocky Horror virgins – their will always be someone who looks more out of place than I do.
I must take the time to praise our four narrators co-stars on the night including Olivier award winning actor David Bedella in the role that must be fabulous to play but very difficult to perfect as well as he has (Frank 'n' Furter), West End star Haley Flaherty as Janet (a character that in another world could be me), Ben Forster reprising his role from the 40th anniversary tour as Janet's camp virginal fiance Brad and Kristian Lavercombe still going strong after 1,000 performances as butler Riff Raff.
So what did the performance teach me. I love the show, the audience interaction very quickly goes from annoying to help make it what it is, I don't have the coordination to do the Time Warp (even with Emma's kind instructions), it's sometimes okay to be rained on in the cinema, and Rocky's muscles do nothing for me. 
However it also reminded me that sometimes it's good for audience's to stay quiet especially when you can't hear an interesting interview with Richard O'Brien over them, though they did quieten down for the following film interview with Scissor Sister Ana Matronic.
I left the show with my face aching from smiling throughout, a new life motto "don't dream it, be it", delighted to witness and unexpected and full-on snog between Richard (shockingly now in his 70s) and Frank 'n' Furter and no longer a Rocky virgin.
If you missed the live screening the show will be touring from now through into 2016, including at the Playhouse Theatre, London until 19 September, Theatre Royal, Brighton from 18 December to 2 January (perfect alternative Christmas and New Year entertainment), the Opera House, Manchester from 5 to 16 January, New Alexandra Theatre, Birmingham from 25 to 30 January, Liverpool Empire from 1 to 6 February, Sunderland Empire from 15 to 20 February, New Wimbledon Empire from 29 February to 5 March, Princess Theatre, Torquay from 7 to 12 March, Edinburgh Playhouse from 28 March to 2 April, York Grand Opera House from 11 to 16 April, Aylesbury Waterside from 18 to 23 April, Richmond Theatre from 2 to 7 May, Regent Theatre, Stoke-on-Trent from 23 to 28 May, New Victoria Theatre, Woking from 27 June to 2 July, Bristol Hippodrome from 18 to 23 July and reaching its finale at King's Theatre, Glasgow from 8 to 13 August.
 And if you don't get the chance to see the tour or like me need to lose your Rocky Horror virginity, remember "It's just a jump to the left and then a step to the right…"