Glisten – 10 December 2019, Cast, Doncaster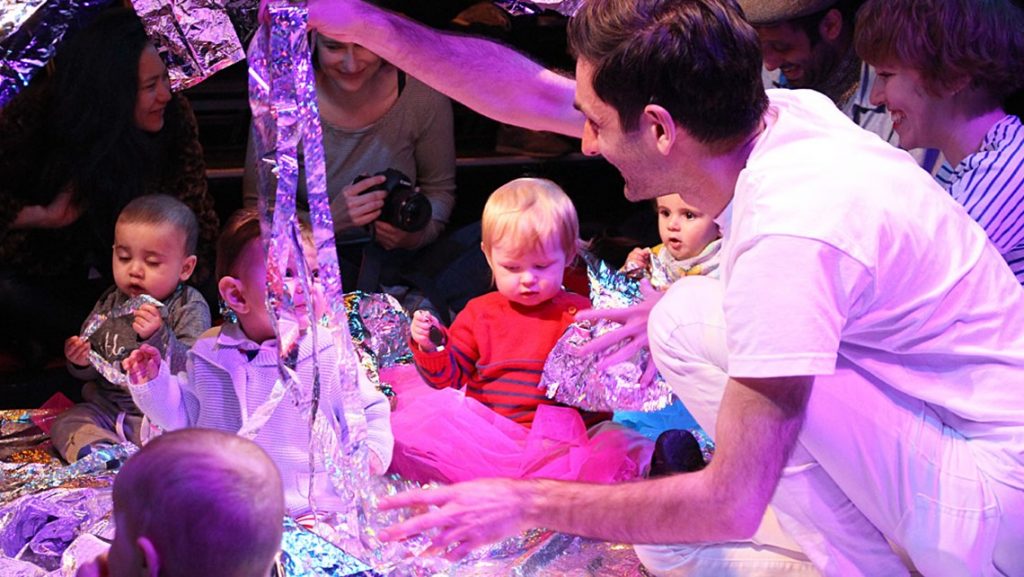 Review by Claire Chapman
"As a theatre fan and mother of a three month old little girl, I was excited at the prospect of introducing my daughter to theatre this Christmas, whilst avoiding commercialism or the traditional pantomime, and Half Moon Theatre's production "Glisten", co-created by theatre-maker Daniel Naddafy and visual artist Phoebe Stubbs was perfect.
Performed in a relaxed environment with chairs and floor cushions, soft music, only a 20 minute duration and a limited number of audience members so that babies were not overwhelmed, my daughter, who is observant at the best times, was mesmerised, excited and delighted throughout with the textures, lights and movements of the show's solo performer Simon Victor.
Simon was a natural choice to perform the show, bringing the vision of the co-creaters to life with relaxed contemporary dance moves, enthusiasm, ease and an obvious love of children, going out of his way to make sure every child was included and got something out of the show. This continued after the performance when adults were invited to bring their children on stage to play with the set, that Simon had cleverly arranged during his performance, where he took the time to help the babies get as much as they could out of the sensory and chatting to parents, including helping me and my partner get the best photo opportunity for our daughter.
We left the drama studio space, thrilled that we had made the journey from Sheffield to see the show and more than happy to recommend the show to new parents and their babies, not just at Christmas but at anytime of the year. On a side note, I can also highly recommend Cast's cafe's hot chocolate, which was one of the smoothest and delicious ones I have tasted in a long time.
I can easily imagine this show, funded by the Arts Council, being performed at a wide range of both intimate art and community venues and provided a fantastic opportunity to introduce children, and their parents, who may not normally have access, to the world of theatre, visual arts and sensory environments."
All performances of Glisten, aimed at babies aged 0-18 months and their grown ups, on at Cast Doncaster three times a day until 11 December 2019, are sold out.
For further information about Cast, Doncaster, including their upcoming programme of shows, visit https://castindoncaster.com/