Little Shop of Horrors – 13 December 2019, Montgomery Theatre, Sheffield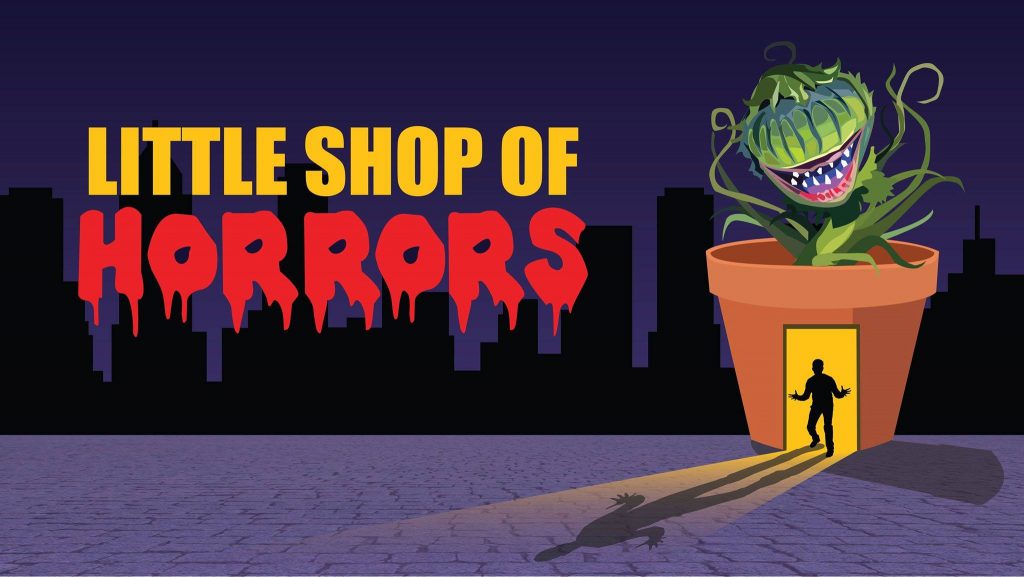 Reviewer Claire Chapman.
"The perfect musical to open on Friday 13th, Little Shop of Horrors is also my boyfriend's favourite musical of all time, firmly in my top three and has been reviewed more times by this website than any other show.
SUPAS's production wonderfully captured the comedy, attitude, emotion and cult status of the musical, whilst making it their own, with clever direction, fun choreography and great performances from the cast and musical accompaniment from the 11 piece band. The result showcased the talents of SUPAS's new and up and coming society members at the beginning of their musical careers.
By far my stand out performance of the night came from Jamal Simon who played both the dentist Orin and provided the voice of Audrey II. This clever use of having the same actor play both of the musical's villains not only provided a perfect showcase for Jamal's talents but also formed its own conspiracies and twist – are the plant and the dentist related or did one cause the other, with Audrey II creating its own food source? But back to Jamal. Jamal possessed an incredible soulful voice, stage presence and attitude, with his performance as the dentist verging on psychotic, especially during "Now (It's Just The Gas)" and as Audrey II in "Suppertime" being up there with every Audrey II I have seen and, where other productions, including a professional tour, struggling with the casting and production of Orin, making it look easy. I can't wait to see what Jamal does next and can see a great professional musical theatre career ahead of him.
The other superb performance from me came from Jess Brandao as Audrey, whose vocals, acting and emotion superbly channeled Ellen Green's performance from the 1986 film, with her moving performance of "Somewhere That's Green" proving the extremely moving musical highlight of the evening.
Of course I can't review the show without mentioning the character Seymour, portrayed by Will Leggetter, who sweetly brought the naive, nerdy shop assistant to life and was at his very best opposite Nathan Sloane as Mr Mushnik in the number "Mushnik & Son", with both performing with excellent comedic talent and on stage chemistry, including one of the funniest tango's audience members will ever witness.
The other cast member I must give a special mention to is Emily Coles, who played one of the three backing singers, displaying an incredible soulful musical range, attitude and stage presence that makes me long to see her in a leading role in one of SUPAS's future performances or as a solo singer in her own right.
The only minor issue with the show related to some opening night sound problems, including on a few occasions the volume of the musicians, who brilliantly brought the musical score to life, overpowering the vocals of the cast members singing on stage. However this did not retract from the quality of the show, which is a festive must for fans of the musical or anyone new to it who wishes to discover, on a cold December evening, why it is a cult classic."
Your last chance to see Little Shop of Horrors is on Saturday 14 December at 2pm and 7.30pm. For further information and to book visit https://themontgomery.org.uk
SUPAS (Sheffield University Performing Arts Society) is the University of Sheffield's only society specialising in musical theatre, putting on two shows each academic year in the University Drama Studio along with a variety of workshops and other projects. Their core philosophy is to have fun and be as inclusive as possible. For further information visit www.supassheffield.com.