Graeme Rooney – The Interview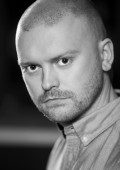 Graeme Rooney is currently starring as Trevor in the UK tour of "The Play That Goes Wrong" and is one third of my favourite ever sketch comedy group "The Ginge, The Geordie and The Geek" as well as appearing in one of my favourite ever television dramas "Ashes to Ashes". To promote the show, which is on at the Lyceum Sheffield until 18th February before continuing its journey around the UK, Graeme took time out to be interviewed.
Me: You and the rest of the cast looked like you have as much fun putting on the Play That Goes Wrong as the audience has watching it. What's the funniest thing that's happened on the tour so far?
Graeme: We do have a great time and we all get on brilliantly so we have a lot of fun. There's been a lot of funny things from audience members shouting out, props going missing and the set taking on a life of its own. There's always something, I mean last night you may have heard a man count out loud every chime I made, which considering the joke is that I forget how many times I've chimed, made it a very difficult joke to do!
Me: Is this your first time visiting Sheffield and what's your favourite thing about performing in the steel city?
Graeme: It is. To be honest I've only been here half a day so I've only seen the theatre which is great, but I'm a big football fan so I'm going to see if either Wednesday or United have a game on Sunday I can go see.
Me: Your character Trevor is a massive Duran Duran fan, what's your favourite track of theirs or do you wish your character had a different taste in music?
Graeme: I do absolutely love the 80s music so Duran Duran although I don't know that well, I like and I think works well for the show. If it was me who'd lost my favourite cd though it'd probably be a Michael Jackson album though.
Me: Did you base your portrayal of Trevor on any technicians you have come into contact with and what do you love most about his character?
Graeme: No, I just based him on the feel of what I got from the script. I like the fact he starts off very much just a bloke doing his job and then changes as he finds enjoyment in how the audience reacts to him. So it's great to play those two sides.
Me: "The Ginge, The Geordie and The Geek" remains the best comedy show I have ever seen at the Edinburgh Fringe Festival and I loved the television show. Is the sketch group no more or can we live in hope of a return in the future?
Graeme: Thank you very much. We never say never as we loved doing it and we're all still best mates, but the other guys have kids now and it's not as easy to get together, but who knows what the future holds. We're always discussing ideas.
Me: And finally a question all of the audience would love to know. Why should we seek medical attention after eating the raspberry ripple ice cream during the interval?
Graeme: Lol. Just a wee joke, the one thing we do have to always check is the theatre doesn't do that flavour! Otherwise there would be a panic throughout the theatre.
For further information on The Play That Goes Wrong including tour dates and how to book, read our review here or visit http://www.theplaythatgoeswrong.com/uk-tour. For further information on Graeme Rooney visit www.graemerooney.com.