Comfort and Joy – 15 February 2017, Sheffield Library Theatre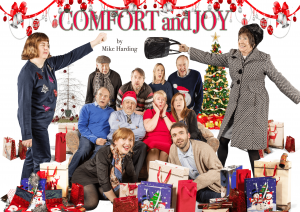 I love an anniversary and I love comedy so was delighted to be in the audience at Sheffield Library Theatre on Wednesday 15 February to see the Tudor Players kick off their 50th anniversary year with Comfort and Joy (written by comedian Mike Harding and first performed by the Tudor Players in 2008).
On until Saturday 18 February and directed by Phil Gascoyne, the play is based at Christmas and promises to be the perfect antidote to the winter blues. The festive season is a time of peace on earth and goodwill to all men. But of course, things never quite turn out the way hoped. Relatives hardly ever seen arrive at the house for the festivities, neighbours never spoken to pop round for a seasonal drink, no one gets the present they wanted, culinary disasters are abound, the plumbing chooses this time of year to go wrong, and of course there are the traditional stick insects and the odd alien or two.
In a hilariously side-splitting play so full of Northern and quirky humour that even the carol singers couldn't help giggling, with strong chemistry between all members of the family and brilliant lines including "Dalek on HRT" and "Y fronts are an insult to the majesty of the penis", and plenty of Sheffield references, praise needs to go to the choice of Christmas folk music between scenes, the real Christmas tree that managed to drop all its needles in one evening, the cats and dog who were heard but not seen and the poor crew member who has to re-wrap the presents before every show. The play also provided important lessons in the third act on the history of comedy, the final act on viewing modern art and throughout on why you should never borrow or be lent a sword and being careful when eating snacks.
Standout performances for me came from John Fereday as Goff (aka Santa, aka Rudolph) and Edwina Gascoyne as Margaret, whose chemistry and acting was so natural that I wouldn't be surprised if they hadn't been a couple or at least good friends at some time off stage, Rod Duncan whose portray of Martin was a cross between Father Jack and Bread's Cousin Shifty and displayed a great singing voice, Bill Darwin as Chapman (not just because that's may surname) who reminded me of a posh Blakey, Ross Bannister as Crispin who acted out the funniest Charades I've ever seen (sadly the audience wasn't allowed to guess) and Siobhan Daley as Kathy who closely reminded me of one of my favourite actresses Emma Pierson in both looks and acting talent.
Tudor Players, named after Tudor Way where the Library Theatre is located, present three full length plays a year, with the other two plays for this year being the Sheffield amateur premier of the love story Brief Encounter (adapted from Noel Coward's classic film for the stage by Emma Rice and containing many of Noel Coward's favourite songs) from 16 to 20 May and the Sheffield amateur premier of the uplifting and moving Second World War story by Michelle Magorian, Goodnight Mister Tom, from 17 to 21 October.
Tickets for all three shows, all performed at Sheffield Library Theatre at 7.15pm, are £9 (£8 for concessions) each and are available by email at tickets@tudorplayers.net, by telephone on 0114 285 3450 or by writing to 10 Eastwood, Sheffield S6 1TU.
P.S. I try not to get political in my reviews but if you love Sheffield Library Theatre and would love the Tudor Players to keep being able to perform their please sign the online petition to save it at https://you.38degrees.org.uk/petitions/keep-sheffield-s-library-theatre.