Ekkoes – The Interview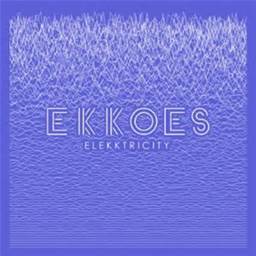 Ekkoes are currently supporting the Human League on their "A Very British Synthesiser Group Tour 2016" (you can read a review here) and their first album "Elekktricty" was released early this year. As one of the best support acts I have seen, leading me to immediately buy their album after their set, I was delighted when Jon Beck, joint lead vocalist and co-founder of the group agreed to answer some questions:
Me – How did Ekkoes come about?
Jon – Dave and I have been friends forever and have been in a couple of bands together in the past. We got Rosalee from a good old fashioned advert in our local rehearsal rooms, "The Premises". We had one rehearsal with her and knew straight away that she was the right person for us.
Me – What are your favourite songs off your new album and why?
Jon – I've got a couple of favourites from the album. Of the singles that we've released from it, I really like "Last Breath" because I like the bleak but still kinda romantic lyric from the chorus and I love singing the "It's Too Late" outro section live. My favourite track on the album though is "Thousand Suns" – it's written about the end of a relationship and how things sometimes just sort of spiral out of your control and there's nothing that you can do fix it, no matter how hard you try. I like the fact that despite the fact that it's ultimately a very melancholy song the music by contrast is quite uplifting and hopeful and I like that juxtaposition.
Me – What's the best thing about touring with The Human League?
Jon – Everything. Being on this tour has been absolutely huge for us and we have enjoyed every single part of it – we get to play with and watch some of our musical heroes every single night and we've got to play to and meet so many lovely people at the shows – it's been absolutely amazing.
Me – What's coming up next for you after the tour and album launch?
Jon – Christmas! Once the dust has settled on the tour we'll sit down and work out exactly what we want to do in 2017 but we've already written a decent amount of the second album so we'll be talking about that, possible tours, labels – allsorts. It's an exciting time!
Me – Describe your music in five words?
Jon – Bittersweet, uplifting, melodic, dark, synthy.
If this interview has made you want to find out more, and I hope it has, you can check out Ekkoes website at http://ekkoes.com/, where you can also purchase the album and listen to selected tracks, Like them on Facebook at http://facebook.com/ekkoes, follow them on Twitter at https://twitter.com/ekkoesmusic and watch their videos on YouTube at www.youtube.com/c/EKKOESUK.
If you are lucky enough to have tickets for the sell-out Human League tour, I recommend arriving early and catching Ekkoes supporting them at: