Human League – 3 December 2016, Steel Hall, Sheffield
---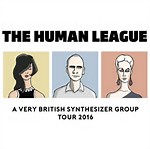 The Human League are my favourite band and this is the 10th time I have seen them live so this post will be slightly bias but it will be the first time I've seen them live in their home town whilst I live in the same town, the first time I've seen them at an arena, my first visit to Sheffield Arena, the first time I've taken my boyfriend to see them and the first time I have seen them perform my favourite track of theirs "Soundtrack to a Generation" (my favourite ever lyric is "Years have gone on in between but all I knew at seventeen is all I know now. Through times of joy and Suffering the music flavours everything. That's all I know now.") so they are more than worthy of this review.
Apart from great music, great lyrics and a great atmosphere with the energy from the audience bouncing off the band and vice versa, there are comforting things about Human League gigs I love, from Susan always looking like she is having the time of her life and Joanne looking slightly less so, the girls wearing glamorous dresses and less clothing being wby the end, Phil normally forgetting at least one lyric, to the band always being introducing during "(Keep Feeling) Fascination", the main set ending with the singalong of "Don't You Want Me" and the encore with "Together in Electric Dreams" (a Phil Oakey rather than Human League track but adopted by them and us audience members as an anthem to keep us going to their next tour.
Supported by a group of musicians whose names are instantly forgotten the minute they are introduced (sorry!!), the Human League's main line up has been lead singer Phil Oakey who joined the band in 1977 (I happily confess to having a major crush on him) who after the rest of the band deserted him in 1980 to form Heaven 17 has been joined ever since by school friends Susan Sulley and Joanne Catherall. Their set list for their 2016 tour is:
Being Boiled
The Sound of the Crowd
Sky
Heart Like a Wheel
Filling Up With Heaven
Open Your Heart
Soundtrack to a Generation
Seconds
The Lebanon
One Man in My Heart
Human
Louise
Stay With Me Tonight
Love Action (I Believe in Love)
Tell Me When
(Keep Feeling) Fascination
Mirror Man
Don't You Want Me
Encore:
The Things That Dreams Are Made Of
Together in Electric Dreams
But before that, support came from two bands. First up was Ekkoes (pronounced "Echoes"), a four piece electro-pop band from London, formed originally by Jon Beck (vocals) and Dave Fawbert (keyboards, guitar) and joined Limerick-born Rosalee O'Connell on joint lead vocals. I can best describe them as a contemporary sounding Erasure whose set I loved enough to buy their new album "Elekktricty" after their set, though didn't manage to get it signed.
The second support act comes from Blancmange (who my boyfriend was very excited to see live) who were formed in 1979 and is made up of singer Neil Arthur and instrumentalists Stephen Luscombe. There biggest hits (which despite being a massive fan of the 80s I seemed to miss) included "Living on the Ceiling" and "Don't Tell Me" before the band split in 1986 (though happily reformed to support The Human League thirty years later and release their new album "Commuter 23"). Neil Arthur's singing voice is rough Northern almost meets operatic with darker lyrics and beats that reminded my boyfriend of early Joy Division.
But of course the night was all about the main Human League set, which despite Phil's interesting taste in sleeveless jackets, is possibly my favourite set from them yet (even though not in the front row this time) and had me standing up, bopping and singing along throughout. The band's love of screens was taken to new levels with its split lifting to conceal the musicians behind and the girls looked glamorous as ever and on top form creating an incredible and uplifting atmosphere in the arena. We can also forgive Phil for saying the band had run out of hits before they even got to "Don't You Want Me".
My list of song highlights is massive, loving the rare performances of "Soundtrack to a Generation" (felt like I was the only audience member who knew ever word), "Filling Up With Heaven" and "Stay With Me Tonight" (my much welcomed ear worm when I woke up this morning), "One Man in My Heart" proving the girls can happily hold their own, the always crowd pleasing "The Sound of the Crowd", "Open Your Heart" and "Tell Me When" and "Together in Electric Dreams" (which left me slightly less emotional than usual as I knew I was heading home afterwards with my lovely man.
Although there are still 10 nights left of The Human League's tour, at the time of writing all but two are sold out but if you aren't lucky enough to get tickets or are looking for an early Christmas present I'd happily recommend the band's newly released anthology, details of which can be found on their website, and which is a must for all fans.