Interview – Merry Hell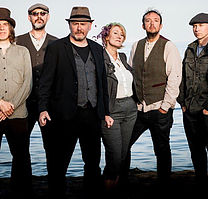 Ahead of performing at this year's Hebden Bridge Folk Roots Festival, taking place from 10 to 12 May, we were delighted to interview, in partnership with Folk Phenomena, the folk rock sensation that is Merry Hell.
Q. For those who haven't come across Merry Hell tell us more about yourselves and how you came about?
Merry Hell come from the North West of England, mainly Wigan and offer joyful folk-rock with energy, passion and a message of hope and togetherness for these troubled times. The band emerged Phoenix-like from the ashes of the much loved, much missed folk-punk band The Tansads, who played some reunion gigs after a 10 year break. However, some of the original members couldn't carry on and we didn't want to be simply a tribute band to our old selves, playing only the old songs, we wanted to play the new music we had written as well as that of new members, like our female lead singer, Virginia, who also writes quite a few of our songs. We decided in order to do that, we should change the name to reflect our new energy, new hopes and new ideas, built on the old band but not dictated by it.
Q. How would you describe your music in five words?
Joyful folk-rock, with a message. (That's 5 if you count the hyphenated words as one!!
Q. What inspires you as band?
Quite simply, we are inspired by what we do, making and sharing music with good people who enjoy what we do. What else would a group of musicians want than to have people care enough about their music to sing it along with us when we perform?
Q. What can audience members expect from your set in the Trades Club as part of the Hebden Folk Roots Festival?
At the risk of getting repetitive, we will share our energy, our joy and our hope, our songs in a way that will involve all the people there, not simply standing on the stage and expecting people to watch us – that's not what we are about. We hope that people will go away feeling uplifted and a little more hopeful about the direction in which we are travelling together.
Q. What's your favourite song to perform as part of your set and why?
Ooh, that's like asking which is your favourite child!! There are different moods within the set, so each has a purpose – so the only real answer is the one that we are playing at the time!
Q. Who else would you recommend festival goers seeing during the festival?
Take in as much original music as you can. A special mention for our friends Vision Thing, currently rejoicing in being Folking.Com Rising Stars Award winners and the wonderful Katie Spencer.
Q. What do you love most about performing on the festival circuit?
There's so many things – meeting old friends, making new friends, travelling around the country, celebrating both our differences and what binds us together but ultimately nothing beats that real sense of community when the band and the audience really come together, wherever that happens to be.
Q. What's coming up next for the band?
Apart from lots of gigs?? We have made a documentary about a year in the life of the band – what goes on, what we are about, an opportunity for people to know us just that little bit better a people and to see some of what goes on behind the curtain!! That will be coming out soon. We are also starting to record a new album and bring new songs into the set, so there's plenty for us and hopefully our friends to get excited about.
Q. Have any of the band ever been in love with a "Baker's Daughter"?
Yes and no!! None of us have specifically been in love with the daughter of a baker (unless there are some untold stories). However, the song is also about loving someone enough to want to change enough to make a partnership work. To that extent, we have all been in love with a Baker's Daughter!
Q. And finally, if you find yourselves there what would be your idea of the perfect merry hell?
Merry Hell implies a degree of good natured mischief, so the perfect merry hell would be to use our music and performances to inspire people to refuse to accept the present status quo and to bring about some positive change in whatever small way they can in that same spirit. Random acts of kindness are a good place to start and we try to include those in whatever we do!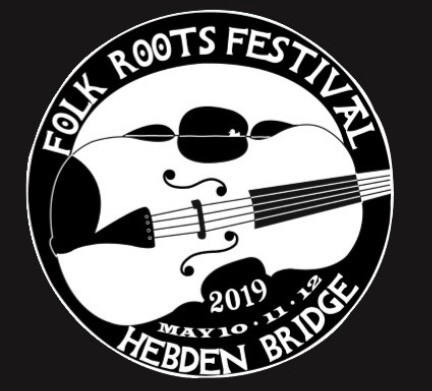 Merry Hell will be performing at The Traders Club at 9.30pm on Friday 10 May as part of Hebden Bridge Folk Roots Festival. For further information on Merry Hell visit www.merryhell.co.uk. For further information on the Hebden Bridge Folk Roots Festival visit www.hebdenfolkroots.org.
As mentioned, this interview was in partnership with Folk Phenomena, a website dedicated to all things folk. For further information visit http://folk-phenomena.co.uk.