Twelfth Night – 20 April 2019, Merlin Theatre, Sheffield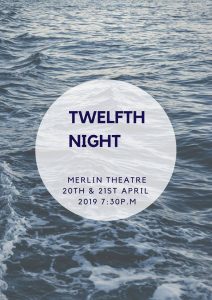 ***** With the production celebrating the 50th anniversary of Sheffield's Merlin Theatre it was only right that we sent our latest reviewer Artisan Friendly, who previously acted and worked behind the scenes at the venue, to review the show. Here's their review:
"Is it really 455 years since the birth of William Shakespeare? He sure is wearing it well! As is the Merlin Theatre where life begins at 50! The vibrant walls and comfortable, refurbished seating have awarded it with a zesty new lease of life. 
Like a glass of chilled champagne on a hot summer's day, there was a terrific fizziness about Sarah Spencer's production of Twelfth Night, written in 1601. Set in Yorkshire, it bubbled with some glorious interactions and overflowed with farcical, laugh out loud moments. It popped and cracked and sang merrily with much beauty (courtesy of the beautiful voice of Agnetha Spencer). The sets were sparse and minimal with swift changes punctuated by the contemporary and fresh sound of 'Clementine Tonia' by Sarah Jaffe. Images were projected on a large backdrop screen to create a sense of time and place, including some shots of familiar Sheffield landmarks (Kelham Island, Botanical Gardens). This helped to capture and emphasise the 'localness' of the production.
Jordan Maycock shone as Olivia from the moment he appeared – heartbroken and aggrieved – then hovering across the stage like a hysterical nun on roller-skates. He caught both the gravity and the glee of the character, punctuating the dialogue with giddy vocal emissions, reminding me at times of Geraldine McEwan enjoying a cuppa as Miss Marple. As well as scoring a hit with her acapella singing, Agnetha Spencer also switched voices in marvellously comedic style, being especially entertaining with her impersonation of Sir Topaz. Adam Farr, as Orsino, displayed prowess when imparting great feeling with his tender and poetic delivery of William's words and Danielle Victoria, gave us a lively and dynamic Viola. Mention should also be given to Julia Bisby as both Antonio and Sea Captain for the 'gung-ho' abandon she wove into her roles and to Claire Dean as Maria, whose effervescent enthusiasm helped to drive the plot forward. The playfully competitive badgering and banter between Sir Andrew and Sir Toby throughout the show, also helped keep the tone light and frothy. And poor Malvolio (dourly and delightfully played with relish by Andrew Graves) further boosted the sense of mockery and charade.
There were some very colourful costumes too, including Malvolio's yellow stockings, Sir Toby's screamingly bright jeans and Sir Andrew's silky dressing gown – the kind of thing I'd chose to wear around the flat on a lazy Sunday morning! So when you've done with it Sir, please pass it on! There was also some great interplay between the cast especially during the scene when Malvolio is tricked into believing that Olivia has fallen in love with him. Great comedic value was found in the use of mere shrubbery as the actors jostled airily through the hilarious (though somewhat cruel) dialogue, bobbing up their heads like manic meerkats.
I first became involved with The Merlin Theatre in 1990 when I joined as a volunteer. I met many like-minded people (some of whom are still friends today) and learned lots about theatre. We witnessed the decline of the Merlin and were very sad about it. Therefore, it is with great happiness that we are now celebrating its rebirth. This sparkling, modern production was a great way to celebrate the birth of Shakespeare and the beginning of the Merlin Theatre 50 years ago. Here's to another 50 years!"
The Merlin is a special community theatre set in the scenic grounds of Tintagel House, Nether Edge, Sheffield. It has recently had a major renovation to restore it back to its former glory following flood damage. For further information on the Merlin Theatre visit http://merlintheatre.org.