Lucky Soul – The Interview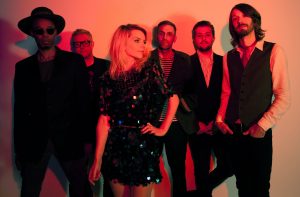 I am a very happy music fan at the moment as not only have one of my favourite bands Lucky Soul have announced their first new album in seven years "Hard Lines" (released on 11 August and available to pre-order at https://luckysoul.tmstor.es/ – I've opted for the signed vinyl) but their guitarist Andrew Laidlaw also agreed to be interviewed for this website. The other members of the six piece band are Ali Howard on vocal, ivor Sims also on guitars, Russell Grooms on bass, Paul Atkins on Drums and the recent addition of Art Terry on keyboards.
Me: For those who have not yet discovered Lucky Soul tell us about the band and how you met and what you have been up to as a band so far?
Andrew: I moved to London from the North of England with the ambition of forming a band to make amazing and intricate, beautiful, soulful, pop music like the great music of old and gradually recruited the band one by one. So we weren't the usual gang of mates, but we became one. Over the years we've changed a few members but the core group and ethos remain the same. We've been around the world from Europe to America to Asia and are about to release our third record which took a long time to make but we hope it will be worth it.
Me: What can fans expect from your third album "Hard Lines"?
Andrew: Expect our trademark carefully crafted melodic songs but with new added disco danceability. We've stretched out. The songs are longer, like 12" mixes. Lyrically, it's very angry and polticised, raging at inequality and the way our world is being run. Being Lucky Soul though, there's still a few heartbreak numbers.
Me: What has the band been up to in the seven years since you released your "A Coming of Age" album?
Andrew: We were actually making the album and getting it ready for release that whole seven years but we made some babies too, so that ate a bit of time up.
Me: I have compared the band to Blondie and my boyfriend has compared you to Kylie and the Cardigans, but who do you consider your influences to be?
Andrew: This time we are big on Chic, Fleetwood Mac and early Madonna together with so much African-American music from the last 50 years: disco, funk, mixed with a bit of classic British indie like The Smiths and classic song writing a la Burt Bacharach and Motown.
Me: Are you planning to tour soon and will you be coming anywhere near Sheffield?
Andrew: Our first gig back will be a return to the lovely Indietracks festival in Derbyshire on 29 July (not too far from Sheff!) followed by our album launch at The Lexington on 10 August. You can expect a bigger tour in the New Year.
Me: One of my favourite tracks of yours is "Ain't Never Been Cool" – what's the least cool thing that's ever happened to you?
Andrew: Me and Ali getting mistaken for The Ting Tings by the paparazzi was a low point.
Me: Where did the name Lucky Soul come from and who is the luckiest soul in the band and why?
I made a screen print based on the Lucky Strike logo when I was at art college and it was on the wall when we were thinking of band names. I guess I'm luckiest one because I still have a wonderful band even though the album took so long to make – I'm lucky they don't kill me.
Me: And last but not least, after the album launch, what's coming up next for Lucky Soul?
Andrew: Another single "(Hurts like a) Bee Sting" and we'll soon be back into the studio I hope. So many songs to record, so many gigs to play. We have to make up for lost time!
For further information on Lucky Soul visit https://luckysoul.tmstor.es/ (I've just been on there to get the link and find myself and treated myself to their 7" single bundle at the same time despite already owning them in other formats), follow the band on Twitter at @WeAreLuckySoul or like their Facebook page at www.facebook.com/luckysoulofficial.