Grab Em' By The Pussy – The Interview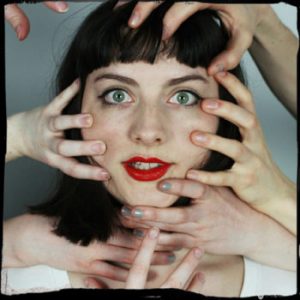 When the twitter feed for the musical Grab Em' By The Pussy followed me I had to follow them back, find out more and ask for an interview.
Me: Tell us about yourselves and "Grab Em' By The Pussy"?
Caroline from Grab Em' By The Pussy: We are a big team and we seem to keep growing!  A lot of us met in real life where we earned the dollar-dollar working in a museum about a fictional character. We often joked that we had enough people to put on a show and look Mama we did it! Our play was birthed at a scratch night at The Old Red Lion as a 30-minute play with one song. We then developed it into an hour long musical for a run at The Space and we are thrilled to take our show to The Camden Fringe.
Me:  Where did the name come from?
Caroline: The name was inspired by that thing what Donald Trump said about grabbing pussy. I had had the idea for a musical about sexual assault long before, but when he made the comments it made me realize that the story needed to be told now. Giving the piece that title really rooted the story in the now. It guided the concept into a modern story about today.
Me: I love Camden but what are you looking forward to most about performing at the Camden Fringe?
Caroline: It is so exciting that Camden is our second run. Our first run at The Space was a journey of discovery and I am not talking about self-discovery… but in da club after our final show at The Space we did all stop dancing which Blurred Lines started playing. We do also point out each others 'everyday sexism'. Hashtag start with the man in the mirror. We have made some adaptations to the play, which I am really excited to put in front of an audience. There may or may not be a completely new ending!
Me: The show promises to be weird, random and hilarious. What's the weirdest/most random/hilarious thing that's happened during your rehearsals/performances of the show?
Caroline: I find this funny, but I often find things funny that other people don't find funny, which bodes really well when you have written a comedy. I had phoned a van which a man to take our set from The Space theatre back to where we were storing it… the police station I live in. It was all booked but he then texted me to confirm a couple of details. Below is the series of texts that ensued.
Van Man:    Job is book for tomorrow
Caroline:           Thank you! See you tomorrow!
Van Man:    Ok
Van Man:    How long did you say that thing was
Caroline:            7 meters tall!
Van Man:    Can u call me?
Multiple missed calls from Van Man.
Caroline:           Sorry we are in the middle of a performance so I can call at the moment.
Van Man:    That's like 22 feet long
Van Man:    No van is so tall
Van Man:    Wat type of van u take it in before
I meant to say 7 feet not 7 meters… whoops. We ended up getting in quite a small van. NO VAN IS SO TALL.
Me: What's up next for you and where will we be able to see you?
Caroline: The north is not safe from our grabbing we are taking Grab 'Em to the York Theatre Royal for the Takeover Festival. You can see the show for a single performance 23 October at 7.45pm. I found when setting up social media accounts for the show I was not allowed to use the word 'pussy', it was too naughty. So we named our accounts Grab 'Em by the Meow, which has quite a nice ring to it. I have decided to take this name on as theatre company and under it I will produced shows that grab the audience by the meow. I want them to be energetic, in your face and out there. Keep your eye out for our other project currently in development Mohammed England a brit-pop musical based on my Egyptian friend with the same name!
Me: One of the song's in the musical is called "I Can Carry Heavy Objects Long Distances Without Needing a Rest". What's the heaviest object you have carried a long distance without needing a rest?
Personality I find my upper body strength to be very weak… much like my lower body strength. So I think I am going to have to get metaphorical with this one. I carry … sense of my own morality…? Actually that is not true, whenever I am putting on a short play I insist on taking all the set, costumes and props on public transport. My latest short play at The Camden People's theatre I carried alone – a foldout single bed, a foam mattress, a double duvet, a pillow, 5 buckets, a DSLR, and some more stuff that I am going to make up because now I am not sure if that seems like a lot. It was heavy I can tell you! And I was carrying it a long distance…. And it was windy so my skirt kept blowing up and I didn't no have any hands free to cover myself… lets go back to the answer of sense of my own mortality.
Me: Thanks Caroline.
A new fresh off the page show, Grab Em' By The Pussy, is a sassy surreal comedy musical about grabbing pussy, performed at the Camden Fringe from 9 to 12 August at 9pm at the Monkey House.
In a world where women are objectified daily, in places they didn't even know they had, the musical tells the story of Maisy, an outcast as she has never been touched. Bless her. The audience will join Maisy on her quest to be fondled. Exploring a world with a ridiculous cultural mood. It promises to be weird, humorous, including songs such as 'No One Will Let Me Blow Them', 'I Can Carry Heavy Objects Long Distances Without Needing a Rest' and 'Grab 'Em by the Meow', and possibly a comedy dance routine or two within an hour of random fun.
The Camden Fringe is a performing arts festival, established in 2006, which takes place from 31 July to 27 August. It offers performers the chance to try out new material and different ideas in a supportive setting and aims to give anyone the chance to perform and showcase their talents, from very experienced performers and companies, to ambitious newcomers. For further information on the Camden Fringe and to book for Grab Em' By The Pussy (tickets are only £8 or £6 concession) visit http://camdenfringe.com.