The Cure – 29 November 2016, Manchester Arena
---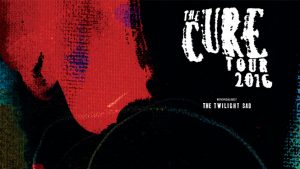 I don't think look like a typical fan of The Cure (though I shouldn't have been surprised they attract fans of all looks and ages) but my love of their amazing, intriguing and visual lyrics means that since my first ever visit to Derby where I brought there greatest hits album I have been a massive fan and desperate to see them live, so when my boyfriend pointed out a couple of weeks ago that there were a few tickets left for there gig at Manchester Arena, only one of four UK dates in their European tour and the only gig outside of London I had to spend the last of my pay cheque on them.
Presenting Robert Smith on vocals and guitar, Simon Gallup on bass, Jason Cooper on drums, Roger O'Donnell on keyboard and Reeves Gabrels on guitar, the show promised to explore 37 years of Cure songs, mixing hits, rarities, favourites and as yet unreleased tracks in a brand new stage production that I knew would be one of my must see music gigs not only of the year but the decade.
Before the set and not one but three encores of their own, The Cure were supported on the night by The Twilight Sad, a Scottish post-punk indie rock band, made up of James Graham, Andy MacFarlane, and Mark Devine. The threesome obviously modelled themselves on the band they were supporting but were still outstanding in their own right combining miserable lyrics with a strong Glaswegian singing voice from their lead singer, that reminded me a of more musical Kevin Bridges, accompanied by lots of spinning.
From our seats that tested my fear of heights to the limits but gave us an interesting side view of the stage (and the first knowledge when the band was stepping up to it) and gave me a dislike of people texting constantly and moving out of their seats during a gig they paid to see, I discovered I knew far less Cure songs than I thought during the initial set, but did fall in love with the melody of "Push" and the lyrics of "The Hungry Ghost" which I not heard before, whilst being reminded how beautiful the lyrics of "Lovesong" are, especially when you have your arm around the man you love.
Whilst other audience members then seemed to get irritated by the three encores, especially as the first two only contained one song each, including an amazing extended version of "The Forest", I was happy to sit and wait for the final encore, which was the equivalent of a five track mini greatest hit tour, where their rousing performance of "Friday I'm in Love" (I sang along to every word) and the beautiful "Close to Me" almost made up for the band not playing my other favourite track "The Love Cats".
I loved that the band during their two hours on stage focused on the music, not visuals and unnecessary chat, with Robert's voice at its unique best and the rest of the band performing their amazing melodies. The set list seems to have changed from show to show for the tour, but in Manchester the set list was:
Shake Dog Shake
A Night Like This
The Walk
Push
In Between Days
Sinking
Pictures of You
High
Lovesong
Just Like Heaven
Primary
Want
The Hungry Ghost
From the Edge of the Deep Green Sea
One Hundred Years
Give Me It
Encore
A Forest
Encore 2
Burn
Encore 3
Lullaby
Friday I'm in Love
Boys Don't Cry
Close to Me
Why Can't I Be You?
There are only three more chances to catch The Cure this year all at Wembley Arena on 1, 2 and 3 December and if you haven't got tickets already I wish you luck in getting them for these sold-out or near sold-out shows. If you are unlucky enough not to get tickets (or even if you have) I also highly recommend checking out the band's website (http://www.thecure.com/) which amongst other things include Robert Smith's lyrics to everyone of the band's back catalogue of songs.