Ukulele Orchestra of Great Britain – 3 December 2019, Sheffield City Hall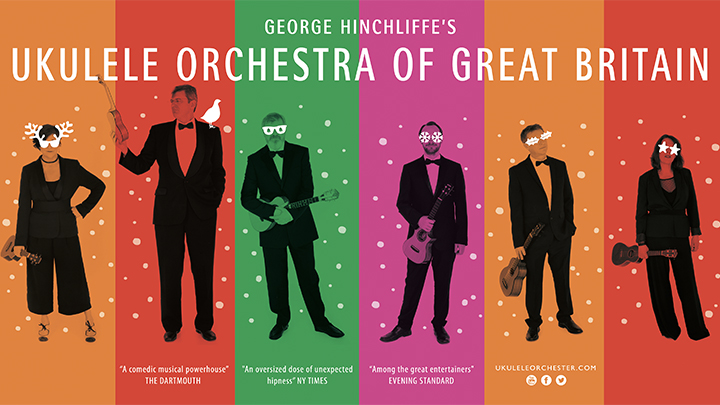 Review by Claire Chapman.

"I first came across the Ukulele Orchestra of Great Britain at the 2018 Underneath the Stars Festival when I thought my boyfriend was joking when he wanted to stay until the end of the day to see them. I was converted within minutes leading me to book my tickets for this show the day they went on sale and bring along another new person to see them with me. That new person also thought I was joking about the show (a pattern is emerging) but left on a mission to tell everyone he knows about them.

As with the first time I saw them perform, the orchestra combined wonderful musical talent (proving their is virtually nothing that can't be performed on the Ukulele), with amazing singing voices (the range of voices of the 10 musicians meant any vocal style could be brought to life), great connection between themselves and with the audience and hilarious comedy, that yes was cheesy but was also extremely clever, original and, with one member from Sheffield, had an easy local focus.

In terms of the music, I was thrilled my favourite from the last set "Song 2" by Blur was still included and from the first half my new favourite must be Lady Ga Ga's "Born This Way" but what will stay with me this time was from the even stronger second half with their rendition of the traditional Black Country Christmas waltz; a sea shanty conversion of a rock opera classic and clever arrangement of Handel that may be one of the best musical arrangements I have ever heard. I must also give a special mention for my companion's favourite number Hawkwind's "Silver Machine" proving you don't need a synthesia to bring the synthesia of one of the first songs to include a synthesia to life.

However it is the festive season and this evening truly put me in the Christmas mood with its clever choice of numbers, not just wintery classics but "Teenage Dirtbag" and "Dreams" who they cleverly found a seasonal reason for including.

I must also praise the orchestra for inspiring and celebrating other ukulele players, something I have not seen other musicians do as part of their live shows, by encouraging them to bring their instruments and play along for two pieces, even turning down their own microphones so the audience members and their instruments could have their place in the spotlight. Though I imagine for the venues themselves the inclusion of this must make bag checks more interesting."

You can still catch the Ukulele Orchestra of Great Britain's Christmas tour at Ipswich Regent Hall on Friday 6 December; Symphony Hall, Birmingham on Monday 9 December; G Live, Guildford on Tuesday 10 December; De La Warr Pavilion, Bexhill-on-Sea on Wednesday 11 December; and at Lighthouse, Poole's Centre for the Arts on Friday 13 December.

For further information on the Ukulele Orchestra of Great Britain visit www.ukuleleorchestra.com