Interview – Dick and Dom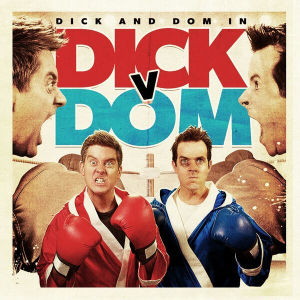 With only four weeks to go now to this years' Edinburgh Fringe I was delighted to interview one of the UK's best double acts and children's' television favourites Dick and Dom ahead of their first ever show at the Fringe.
Me: Tell us more about your forthcoming Edinburgh show Dick vs. Dom?
Dick and Dom: It takes the premise of a boxing match, we split the audience in half The Dick's V The Dom's and play a whole load of anarchic games to find out which side will win the ultimate prize of…nothing.
Me: Which of you is most competitive and will you be keeping score of who has the most wins during the festival?
Dick and Dom: Dom is more competitive but when it comes to this show it's all a bit of a mess around really.
Me: How would you describe yourselves in 10 words?
Dick and Dom: Rumbunctous, anarchic, silly, discombobulated, constipated, older, fatter, balding, dick, dom.
Me: After working together for over 20 years what do you think is the secret of being a great double act?
Dick and Dom: Friendship and compromise, if you can't be friends there really is no point.
Me: What are you looking forward to most about performing at the Fringe for the first time?
Dick and Dom: It's been something we've always wanted to do so we can't wait for our Fringe debut!
Me: Who else are you looking forward to seeing perform at the festival?
Dick and Dom: Always love to catch Jason Byrne.
Me: Where is the most memorable you have played "bogies" and is there anywhere left you would love to or have never been brave enough to play it?
Dick and Dom: The Mitchell library in Glasgow was a classic. We would love to have had a go at a golf tournament (obvious reasons).
Me: A (short) essay question. "You should never work with animals or children" discuss:
Dick and Dom: Neither of them can hold their bladders or bowels in.
Me: What's coming up next for you after the Fringe?
Dick and Dom: More festivals! We take our live show to family festivals all over the country.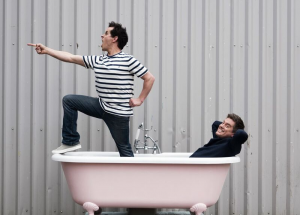 Dick and Dom will be performing their show Dick vs. Dom at the Edinburgh Fringe from Wednesday 1 to Sunday 12 August at 1pm at Underbelly, Bistro Square – McEwan Hall. To book visit https://tickets.edfringe.com/whats-on/dick-and-dom-dick-v-dom.
For more information on Dick and Dom visit http://dickndom.co.uk.