Oliver! – 26 June 2018, Montgomery Theatre, Sheffield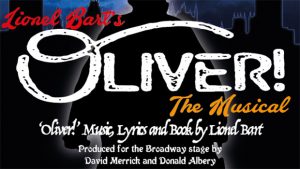 In my youth Oliver! was the first amateur musical I remember seeing on stage so I delighted in the irony that as an adult I was in the audience for a youth production of the much loved Lionel Bart musical that brings the classic tale of Oliver Twist by Charles Dickens to life.
You know when you are in for a lovely night of musical theatre when the opening number "Food Glorious Food" sounds, if you close your eyes, identical to the (50 years old this year) film musical version before Oliver (role shared by Sam Radley and Benjamin Rossiter and performed by Benjamin on the night I reviewed) delivers his iconic opening line "Please sir, I want some more" with pure childlike innocence and vulnerability that immediately made the audience love him.
Not featured in the film version, "I Shall Scream", performed by Katie Staniforth as Widow Corney and Harry Foster-Major as Mr Bumble provided the unexpected duet of the night, full of Victorian flirtation, cheek and comedy and the crisp, dark, gothic "That's Your Funeral" performed by Jacob Broughton-Glerup as funeral director Mr Sowerberry, Hannah Pritchard as Mrs Sowerberry and Harry combined crisp vocals and choreography.
Benjamin's solo "Where is Love?" was stunningly beautiful and emotional, almost moved the audience to tears and more than comparable to Mark Lester's iconic performance, before "Consider Yourself" provided the perfect introduction to the lovely, charming, young East End wide boy Artful Dodger (role shared by Daniel Rossiter and Ben Storey and performed by Ben on the night I reviewed), who should also win the award for best outfit on the night.
"Pick a Pocket or Two" not only provided the opportunity for the young ensemble to display their pickpocket skills but also provided a wonderful introduction to one of the two superb stand-out performers of the night, Ethen Carley as Fagan, who not only wonderfully brought the character far beyond his years to life, but performed with wonderful voice, characterisation, stage presence and chemistry with the other characters, especially his young gang members.
Proving why this website awarded her as best supporting actress in a musical in 2017, my other superb stand-out performance of the night came from Katherine Rice who proved she born to play my favourite ever musical character Nancy, wonderfully transformed into the beautiful, loveable, London lass with attitude, with her introductory numbers, alongside Daisy Peacock as Bet, "It's a Fine Life" and "I'll Do Anything", showcasing their wonderful singing voices, accents. In addition, "I'll Do Anything" also provided Ben's stand out musical performance of the night.
The second act kicked off with two of my all time favourite musical numbers, showcasing the full range of Katherine's musical talents and wonderful stage presence, from leading the ensemble in the rousing and uplifting "Oom-Pah-Pah" to her stunning solo "As Long As He Needs Me" performed with true grit, emotion and passion and with a vocal that I can't imagine being beaten by any other actress in the role and up there with Shani Wallis's performance five decades earlier. In the words of Fagan to Nancy "You're wonderful today, such a natural, such a talent."
Reminding me of Fiddler on the Roof, in fact I think based on this performance Ethen would also be perfect in the role of Tevye, "Reviewing the Situation" confirmed Ethen as the ultimate Fagan, combining his incredible characterisation and wonderful singing voice to provide one of the most memorable musical numbers of the night.
If you are looking to escape the weather during the hottest week of the year so far, love a classic musical full of wonderful musical numbers and want to support youth theatre in Sheffield then you should look no further than this production. Not forgetting that this may also be your last chance to see stunning performances by Ethen and Katherine in possibly their last roles with Easy Street Theatre Company before they head off to university and at the very start of their careers in stage musicals by the young actors playing Oliver, with all four of them, based on this production destined for long and successful stage careers.
Oliver! will be performed by Easy Street Theatre Company at the Montgomery Theatre, Sheffield at 7.15pm until Saturday 30 June with an additional 2.15pm performance on the Saturday. Tickets are £14. To book visit https://themontgomery.org.uk.
Founded in Sheffield in September 2009, Easy Street Theatre Company is an inclusive Theatre and Performance group for children and young people age 7 to 21 with a passion for theatre. The company aims to educate the hearts minds, bodies and voices of youth of all abilities, races and social backgrounds through the dramatic arts. For further information visit www.easystreettheatre.org.