Fading Into Nothingness – 17 January 2020, Merlin Theatre Sheffield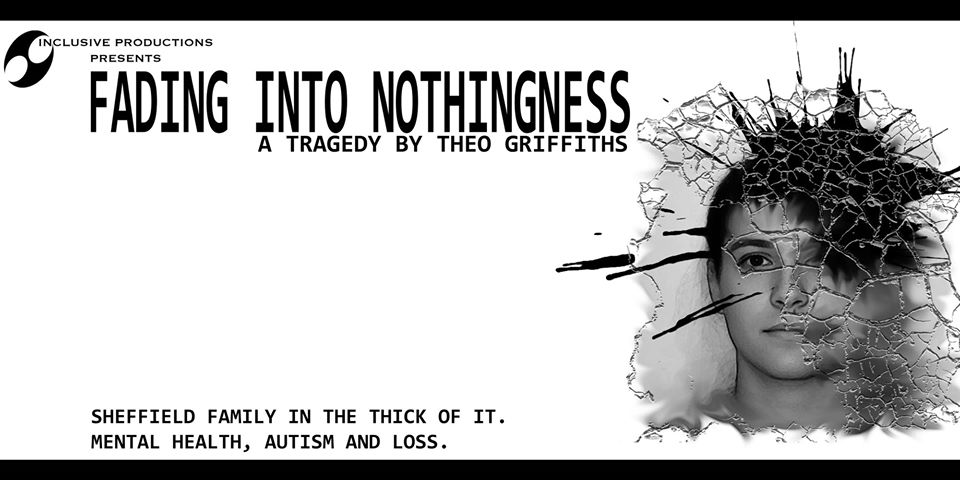 Review by Melanie Hopkins.

"The Merlin Theatre is a fantastic venue for both new work and classic productions. It is adaptable, spacious, and houses a commanding stage that has the ability to capture an audience off the bat and bring them into that play's world, with the help of a dedicated cast and a few simple set pieces to keep you draw in.

The Merlin Theatre welcomed a new, original play Friday night written by Theo Griffiths, who also took on the lead role of Zak in, "Fading Into Nothingness".

You could tell the playwright had invested a lot of time, effort and love into this piece with carefully crafted scenes of dramatic tragedy as well as comedic scenes where audience members burst into fits of laughter. This play had quite dark subject matters that even the most experienced and emotionally strong theatre goers couldn't help but shed a tear in most scenes.

"Fading Into Nothingness" followed a loving, tight-knit family dealing with grief and the complexities and effects of losing a loved one on each family member, especially aiming to highlight the struggles of a child with autism and their experience with bullying and loss. Of course, the play was authentic in itself as Theo, the playwright, said in the Q&A after the show that he had based it on this own experiences at school with the struggles of his classmates' acceptance of him being autistic, resulting in bullying. I was particularly struck by his words detailing that the reason he wrote this piece was because he needed to talk and "get it out", something I myself and a lot of other creatives can relate to. Well, what he got out and put on paper was something I'm sure his old classmates would be wildly envious of today!

The lead roles and main family of the cast made up of Michaela Short as Mum, Matt Medlock as Dad, Danielle Victoria as Mia their daughter and of course, Theo Griffiths as Zak, their son. This family dynamic was full of energy as each actor's performance was naturalistic and full of life. Michaela (Mum) particularly went through quite a varying amount of emotional depth in her character very early on, which I have to commend her for. She pulled it off spectacularly and I hope she is proud of her work, she definitely should be! Matt Medlock (Dad) came with plentiful versatility, performing a sweet and carefree father figure yet turning into a darker and more sinister side as the play unfolded; a true chameleon! Danielle Victoria as Mia, I don't think anyone could have done better with the eye-rolling, dramatic teenage sister and go on to give such a raw, uncut and textured performance as she did during the final moments of the play, well done! Theo Griffiths (Zak) knew the character inside out, he wrote it! I think it was beyond fitting for him to be an integral part of the show and shows his dedication, high hopes and love he had for his project.

The comic relief trio of rowdy and misunderstood teenage bullies compromised of Alessio Tornese, Agnetha Spencer and Ellen Trevaskiss. They were so fun to watch and always came on stage with bags of energy. Never shadowing one another and working perfectly together in a team, these three were phenomenal. I have to document that the biggest laugh of the night came from Ellen, who with her fantastic improv delivered a line that had audiences in hysterics. All who are yet to see, you are in for a treat!

Julia Bisby multi-role-ing as the stern English teacher and vivacious, groovy vicar! Her portrays of these completely different characters showed her versatile ability and I was left both feeling nostalgia from my very own schooldays and an instant urge to want to get up and dance. A fantastic performance!

Claire Dean multi-roled also playing a straight-talking doctor as well as Mia's sympathetic and patient counsellor. She never fails to succeed in any role she's placed in and always hits the mark. Well done to you, Claire!

You could tell the cast had bonded immensely by the glowing pride they had for each other and the production as a whole. It was evident to see that everyone finished the show with huge grins, which in contrast was refreshing to see after some emotionally heavy performances. Sarah Spencer was the perfect fit to direct this original piece; a very patient, tentative and upbeat woman who had nothing but smiles and laughter for the entire cast and crew. It was also thrilling to see the cast were local actors that were chosen to perform in this piece, adding another level of authenticity and overall satisfaction from a fellow Sheffield-er like me. A huge well done to everyone involved, we need more theatre like this and it's a joy to see it come to life with such a motivated and talented cast."
Fading Into Nothingness will be performed at the Merlin Theatre, Sheffield until Sunday 19 January. To book visit www.facebook.com/events/1012915232394904/.