Bedroom Farce – 20 November 2019, Library Theatre, Sheffield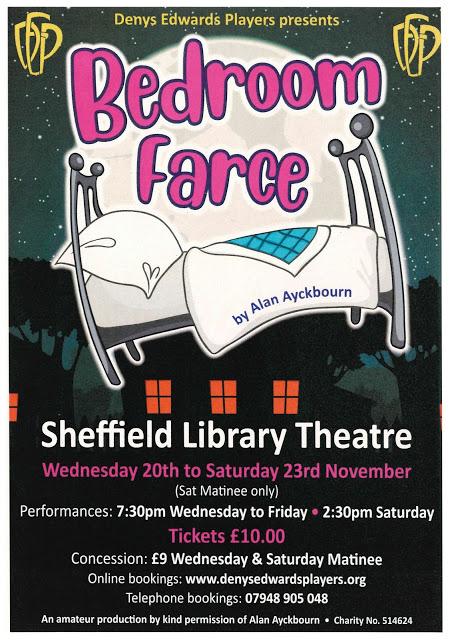 Review by Artisan Friendly.
"On a cold, wet and windy Wednesday evening, it's a testament to the quality of the Deny's Edward Players productions and the loyalty of their following that they are still able to draw in a large audience on the opening night of Alan Ayckbourn's 1975 comedy 'Bedroom Farce'.
Directed by Leah Rhodes-Birch, the play transports us back to middle class suburbia in the mid-70s. The humour is somewhat reminiscent of TV sitcoms popular at the time ('The Good Life', 'Are You Being Served?') and later, ('George and Mildred' and 'Terry and June'). It is a farcical piece (as the title indicates!) which opens a comic window into the lives of four married couples living in close proximity and how one of the pairings (who are experiencing something of a marital crisis), have a detrimental impact on the other three. Out of this scenario, ridiculous situations arise; involving misunderstandings, arguments, temporary fall outs and long, drunken ramblings.
The performers found some great characterisations which came across well. Particularly noteworthy were Sue McCormick as Delia. The audience loved her delightfully snooty cross between Mrs Slocombe and Hyacinth Bucket (with a tinge of Mona Washbourne). Likewise, Jon Alan, as Malcolm, scored well with his frantic hammering and banging until 3am and John Cleese-esque exasperation. The cast worked well together, sparing off each other and having a whale of a time. There were some difficult manoeuvres (a costume change under a duvet and the collapsing of a dressing table) which were delivered faultlessly.
The set and costumes captured the era well. With some deft touches (such as a partially papered wall in the newlywed's bedroom) which easily and effectively provided distinct differences between the three bedroom spaces. It would be interesting to consider a more modern version of this play with a same-sex or minority ethnic couple. "
Bedroom Farce will be performed at the Library Theatre, Sheffield until Saturday 23 November, Tickets are £10 and, for the Saturday matinee, £9 for concessions. For further information and to book visit www.denysedwardsplayers.org/current
Named after a leading local amateur actor who performed in the 1920s and 1930s, Denys Edwards Players was formed after World War Two and now perform a varied programme of three full length productions each year. For further information on the company, including a detailed history of how they were formed, visit www.denysedwardsplayers.org.