Can I Speak – 30 November 2018, Sheffield Hallam University Student's Union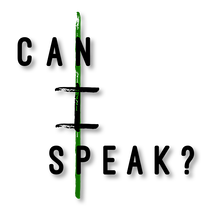 We are ending November with the start of HSU Theatre Society's new season, Can I Speak, which promised to a Euripides/Shakespeare/Ibsen classic mashup with a contemporary twist exploring powerful forces and conniving voices. Written and directed by Alice Connolly, Can I Speak unravels the dark, sickening consequences of one man's ignorance of his wife's mental illness.
Cleverly combining the language of Shakespeare with the visual of contemporary dance and theatre to take the Bard's words in a bold and original direction, the one hour play was dark, intense, shocking and passionate theatre that will stay with me and the other members of the audience for a long time to come.
The two leads Hannah Ghobti-Ravandi and Daniel Higgins as Hedda and Eilert MacDea both possessed a superb talent for and shared a dark, dangerous, passionate and abusive on stage chemistry and intensity, that would not put them out of place in a production at the National Theatre.
Although I must also praise all of the ensemble playing Hedda's dark emotions, complimented by the green and red lighting (the colours of jealousy and danger) and the all black veiled costumes, for being to life the dark thoughts in her head and reflecting the desperate insanity that occurs when you allow them to take over through their movements and choral like spoken chanting, the stand out performances among them for me were Becky Cleary, Katie Owen and Aixin Fu as Fatality, Temptation and Chaos whose performances would not be out of place in a modern RSC production of Macbeth.
The two moments in the play that will stay with me for a long time are the opening scene in which Hannah's incredible contemporary dance routine reflected her tortured emotions and the lyrics of the song playing perfectly, providing a deep and stunning insight from the very beginning into her character without the need for a single word; and the lullaby singing, beautifully at first led by Hannah and Becky, that reminded audiences of the true twisted dark nature of the rhymes with the vocal clock ticking and foot stamping that followed only drawing us deeper and deeper into Hannah's growing insanity.
I must highly praise first time director Alice Connolly, who fulfilled her promise in the production's programme to create a "moving painting being painted" of a production, with her stunning use of words and movement, bringing the best out of the cast, crew and production team who proved they are as capable of presenting outstanding modern theatre to audiences as they are the musicals and comedy I have previously seen from them.
The most original and thought provoking piece of theatre I have seen on a Sheffield stage, Can I Speak should not be missed by anyone who enjoys dark contemporary theatre and modern adaptations of classic works that will leave them questioning what reasonable people are capable of and the importance of the beauty of a final gesture.
Your last chance to see Can I Speak is on Saturday 1 December at 7.30pm at The Hubs. Tickets are £8 full price and £7 concession. To reserve them in advance and then pay on the night visit www.eventbrite.co.uk/e/can-i-speak-tickets-51522973601.
HSU Theatre Society will also be performing Revolt. She Said. Revolt Again at DINA on Friday 7 and Saturday 8 December (for further information visit www.eventbrite.co.uk/e/revolt-she-said-revolt-again-tickets-51521060880) and Little Shop of Horrors at Sheffield Hallam University Student's Union on Friday 14 and Saturday 15 December (for further information visit www.eventbrite.co.uk/e/little-shop-of-horrors-tickets-51510647734).
Run entirely by students, HSU Theatre are one of the largest non-sporting societies at Sheffield Hallam University Student Union. For further information including their forthcoming shows visit https://hsutheatresociety.wixsite.com/theatre.
HSU Theatre Presents: Can I Speak?

A Euripides/Shakespeare/Ibsen classic mashup with a contemporary twist exploring powerful forces and conniving voices. A story which unravels the dark, sickening consequences of one man's ignorance of his wife's mental illness.Written and directed by Alice ConnollyReserve tickets through Eventbrite and pay on door! https://www.eventbrite.co.uk/e/can-i-speak-tickets-51522973601

Posted by HSU Theatre Society on Friday, 9 November 2018