CAOS "Singin' in the Rain" – 12 April 2016, Rotherham Civic Theatre
---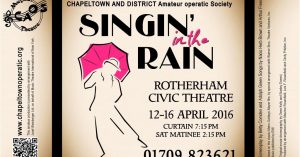 If I was asked to name my favourite musical of all time, Singin' In The Rain will always come out on top, so when I spotted it was being performed by Chapletown and District Amateur Operatic Society (CAOS) from Tuesday 12 to Saturday 16 April at Rotherham Civic Theatre I had to get me and my boyfriend tickets for the opening night.
My favourite musical combines singing, dancing, romance, comedy and 12,000 litres of water on stage to tell story of the first ever Hollywood musical, when the invention of talkies left silent movies, and some of their stars behind. 
Featuring all the songs from the MGM musical, including my favourites "Make 'em Laugh", "Moses Supposes", "Good Morning", "Fit as a Fiddle", the very romantic "You Were Meant for Me" and of course the brilliant title track, the show is also a must for fans of dance with its stunning "Broadway Melody" dream sequence.
Despite a stage that could have been slightly bigger to accompany the scale of the musical, a very smokey smoke machine and some first night nerves, I had a grin on my face throughout. My praise particularly has to go to Olivia Fisher who had the beautiful looks and outstanding singing and dancing talent to pull off the role of Kathy Selden with perfection and Kerry Masson-Wilson who stole the show as Lina Lamont, perfecting the voice, look and comic timing, including in her solo number "What's wrong with me".
When it comes to the men in the show, Jonny White, playing Don Lockwood, had a charisma and talent that was complimented by the strong chorus line and playing his best friend Cosmo Brown, Lee Brammer had the comic timing, dance talent and chemistry to make the role both a success and his own. I also have to mention Joe Cawton, Daniel Rice and Daniel Jackson, who played the young Don and Cosmo, and Alistair Learmonth-Bray, who may be the youngest ever film studio assistant.
Performing for 92 years and continuing to get stronger and stronger, CAOS produces outstanding musical productions, including my second favourite musical Witches of Eastwick, my mum's favourite Half a Sixpence and her mum's favourite My Fair Lady. They have also launched their own CAOS academy helping young people aged eight to 16 develop a passion for the arts.
Singin' In The Rain is on at 7.15pm from now until Saturday 16 April, with an additional 2.15pm matinee on the Saturday, a sign language performance on the Wednesday and a audio commentary on Thursday. To book your own ticket for the show that is guaranteed to give you a glorious feeling, pray for a storm, stay up late and grab your tap shoes telephone 01709 823621.