Ellesmere Musical Theatre Company "9 to 5" – 11 April 2016, The Montgomery Theatre, Sheffield
---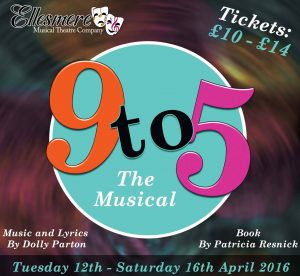 We all know the words to the song and we all love the singer/star of the film Dolly Parton and now, at the dress rehearsal day before the show starts, me and my boyfriend got an exclusive preview of the musical, performed by Ellesmere Musical Theatre Company at The Montgomery Theatre, Sheffield from Tuesday 12 to Saturday 16 April.
For those of you who haven't seen the 1980s hit film, 9 to 5 tells the story of three female colleagues who take control of their office and learn there is nothing they can't do, proving they really can do it for themselves even in a man's world. The hilarious story is a winning mix of unlikely friendship, outrageous and thought provoking revenge and some romance for good measure.
The stars of the show are Violet (Helen Kempton), Judy (Louise Walker) and Doralee (Sara Hibberd), who when pushed to boiling point concoct a plan to get even with their sexist, lying and egoistical boss Franklin Hart Jr (Damian Ross). With him literally hanging around somewhere else, they makeover their workplace and take charge of the company that has always kept them down.
With strong performances from all three leading women it's hard to pick a favourite but Sara Hibberd has to be celebrating for channeling her inner Dolly. Also deserving a mention is Damian Ross, who channeled his inner "IT Crowd" Douglas Reynholm, Carol Wibberley who played the office goody two shoes with a hard to hide crush on the boss, and a small but brilliant performance by Melodie Cole who channeled her inner American "On the Buses" as a ditsy, poor sighed candy striper.
Picking a favourite song from the show, which started and ended with Dolly Parton herself on a screen above the stage and were all accompanied by crisp and jazzy dance routines, is hard. The title track will always stand out, but hurt girls everywhere will also love "Shine Like the Sun" and "Get Out and Stay Out", office workers will relate to the upbeat "Around Here", all of us who believe in love will appreciate "Let love grow", women who work hard to break through the brass ceiling will make "One of the Boys" their anthem and any women who have ever had the brains overlooked for their bodies will relate to "Backwards Barbie".
And for a musical that at it's heart is about sister's doing it for themselves, it also reminds you never to judge a book by it's cover, be careful with rat poison, it's okay to quote fun facts when you're nervous, you'll never to old to find love, we can all make a difference and, on a sad note, over 35 years on from the film's release the gender pay gap, glass ceiling, childcare and corporate corruption are still issues.
Founded in 1947 Ellesmere Theatre Company bring high standard amateur productions to the Sheffield stage, including some of my own favourite musicals Witches of Eastwick, Anything Goes and, based on this evening, 9 to 5.
The unmissable musical comedy 9 to 5 is being performed at The Montgomery Theatre from Tuesday 12 to Saturday 16 April at 7.15pm, with an additional 2.15pm matinee on the Saturday. Tickets are a bargain £14 (£10 for concessions) and can be booked by telephone 0114 236 4487 or 07510 289036.