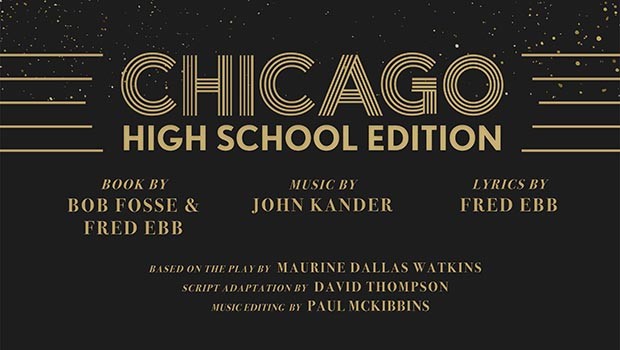 Chicago – 4 July 2019. Montgomery Theatre, Sheffield
This seems to be the year of the razzle dazzle, with not one but two productions of the Bob Fosse musical being performed, so we were delighted to send our newest reviewer Heather Reynolds to the opening night of Easy Street Theatre Company's school production of the show.
"I was thrilled to be asked to attend the opening night of Easy Street Theatre Company's opening night of Chicago (High School Edition), directed and produced by Sallianne Foster-Major. With music and lyrics by Kander and Ebb, and a vaudeville style book written by Ebb along with Bob Fosse, Chicago follows Velma Kelly and Roxie Hart – two headline-seeking murderesses doing time in the Cook County Jail and both represented by infamous Chicago lawyer, Billy Flynn.
Immediately, I was impressed by Dennis Wallis' set design, which was well complemented by Nick Clayton's lighting design. Throughout the course of the show, set changes were minimal and tables, chairs and prison bars were used to full effect. The onstage band, under the direction of Gareth Lloyd, got the show off to a rousing start. They were a delight to listen to and were a definite highlight of the production.
Amanda Tyas' choreography gave every member of the cast their chance to shine, and each cast member rose to the occasion – this show was very much a team effort! The entire ensemble should be very proud of all that they've achieved in this production, and it was lovely to see a range of ages onstage.
Opening song, "All That Jazz", introduces the audience to Velma Kelly and Roxie Hart, played tonight by Alice Welterman and Hannah Prichard respectively. Alice's Velma was strong in both voice and characterisation from the outset, and her vocals were a joy and very easy on the ear. Hannah's Roxie was both cunning and comedic when necessary, providing a rich vocal throughout. The two worked well as an onstage team, particularly during "My Own Best Friend" and in the "Hot Honey Rag" dance sequence.
Emma Neilsen as prison matron Mama Morton offered a standout performance, and her rendition of "When You're Good To Mama" was a high point. In the featured character of Mary Sunshine, Emily Axe certainly did shine and took full opportunity to make the part her own, receiving a lot of laughs from the audience in return.
Another high point of the show was "Cell Block Tango", performed by Alice along with Katie Staniforth, Fern Buckley, Carmen Mooney, Freya Tryner and Daisy Peacock. The girls worked well together, and did a superb job with juggling harmonies, complicated vocal lines, complex choreography, and in Freya's case, even speaking in Hungarian.
I must also mention the leading men of this production who certainly met the high standard set by their leading ladies. Harry Foster-Major played a smooth Billy Flynn, with soothing vocals that seemed almost effortless. He and Hannah worked amazingly well together, particularly during the "We Both Reached For The Gun" routine – the two made a very slick and co-ordinated pair.
Another standout performance of the night came from Charlie Bower as Roxie's devoted husband Amos Hart. Charlie's performance was heart-breaking, and his characterisation was extremely natural. He immediately had the audience in the palm of his hand, and his Act Two solo "Mister Cellophane" proved to be an audience favourite. I'll look forward to seeing which future productions and roles Charlie will have the opportunity to play because he was outstanding in this role."
Chicago will be performed by Easy Street Theatre Company at the Montgomery Theatre, Sheffield at 7.30pm until Saturday 6th July with an additional 2.30pm performance onSaturday. To book visit https://themontgomery.org.uk. Please note that two casts are appearing – the first cast on Thursday 4th and the evening performance on Saturday 6th, and the second cast on Friday 5th and the matinee performance on Saturday 6th.
Chicago will be performed at the Montgomery Theatre, Sheffield on Friday 5 July at 7.30pm and on Saturday 6 July at 2.30pm and 7.30pm. To book visit http://themontgomery.org.uk.
Founded in Sheffield in September 2009, Easy Street Theatre Company is an inclusive Theatre and Performance group for children and young people age 7 to 21 with a passion for theatre. The company aims to educate the hearts minds, bodies and voices of youth of all abilities, races and social backgrounds through the dramatic arts. For further information visit www.easystreettheatre.org.