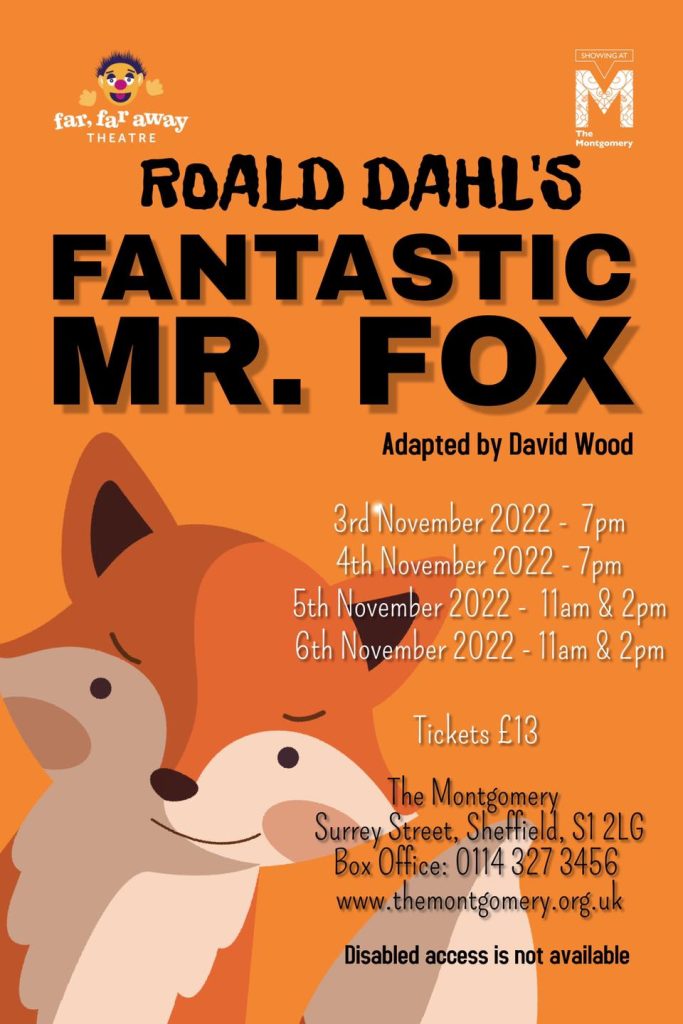 Far Far Away Theatre's Fantastic Mr. Fox – The Montgomery Theatre, 3 November 2022
Review by Jacob Bush.
"After previously taking on The Twits, Far Far Away Theatre have returned to the Montgomery with their take on another Roald Dahl classic. After a popular Wes Anderson film adaptation, as well as a professional UK tour a few years ago, Fantastic Mr. Fox is beloved by people of all ages. It was a true joy to see a theatre packed full of people of all ages.
Fantastic Mr. Fox tells the story of Mr Fox and his family and their adventures to try and outsmart the horrible farmers Boggis, Bunce and Bean. This production is packed full of musical numbers, dancing, colourful costumes and a host of fabulous characters.
Michael Crump leads the cast brilliantly in the title role. He is energetic and likeable and brings the character to life, almost as if he'd walked straight out of the book. Georgina Holliday is a lovely Mrs Fox who delivers her musical numbers well. Holliday and Crump's on-stage chemistry with Franchesca Fearn and Billie Naylor as their children is believable and truly heart-warming.
Matthew Dabbs and Jenna Dabbs, who have a multitude of offstage roles, take on the roles of Mr and Mrs Badger. They act as narrators and they hold the audience in the palm of their hands. They have a great rapport, keep the audience thoroughly engaged in the action and have strong comic timing. Oscar Horsley's moments as Little Badger as truly lovely to watch and it's a shame we don't see more of him.
Peter Holliday, Samantha Tennick and Steve Wainwright take on the iconic roles of farmers Boggis, Bunce and Bean. Their characterisation is outstanding, their perfectly grotesque whilst not too over the top and unbelievable, and they bounce off each brilliantly. They strike the perfect balance between being a genuine threat to the Fox family and their friends, whilst also getting plenty of laughs.
The music, under the direction of Matthew Dabbs, is fun and despite everything being sung to backing tracks, the sound never feels lacking. Jenna Dabbs and Felicity Thompson's choreography is just brilliant. It is lively, energetic and really fun to watch. The set and costumes from Matthew Dabbs and Jenna Dabbs are colourful and creative – the costumes could even be better than those seen in a previous professional production of the same story.
Fantastic Mr. Fox is fabulous fun for people of all ages, whether they're young and are new to the story or have loved the book for many decades. Be sure to catch this colourful and energetic production at the Montgomery Theatre before Sunday – but be quick, tickets are selling incredibly well!"