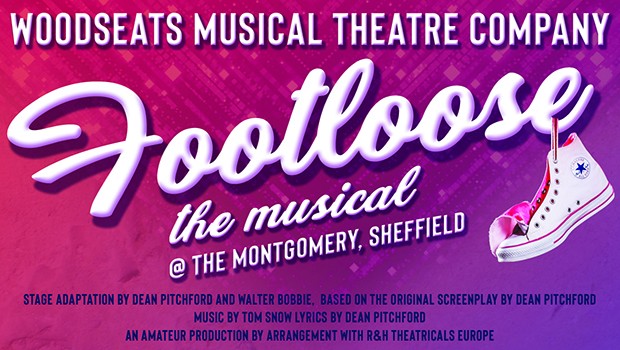 Footloose – 10 July 2019, Montgomery Theatre, Sheffield
***** For my last show before I go on maternity leave (don't worry we have a team of reviewers to keep up the good work whilst I'm welcoming my patter of tiny feet), I was delighted to be invited to kick off my Sunday shoes and cut loose for the high energy, explosive 1980's rock 'n' roll musical sensation that is Footloose.
Based on the 1980s film starring Kevin Bacon, the stage musical, packed full of electrifying songs and dance routines, tells the story of Ren McCormack, a teenage boy from Chicago who moves with his mother to the small town of Bomont. The Reverend has convinced the town to outlaw dancing, which Ren finds unbelievable. With the help of the Reverend's daughter Ariel and Willard who becomes his best friend, Ren convinces the Reverend to let the teenagers dance, and in the process helps the town to heal from a tragedy that affected them all.
Continuing to go from strength to strength, Woodseats Musical Theatre Company presented the ultimate feel good musical, perfect for the summer, uplifting and packed with energy, great voices, amazing dance moves and fantastic live music, from the second the curtain rose to the title track to the title track finale, more than giving both film versions and professional stage versions a run for their money.
We have always loved and highly praised Adam Walker, so it's no surprise that in the lead role of Ren he shone, definitely giving Kevin Bacon some competition, and confirming his amazing singing, dancing, stage presence and leading man talent, all showcased at their very best during the musical number "I Can't Stand Still". Adam also added another string to his bow later in the show with his "Dancing is not a crime" rap.
Giving Adam more than a run for his money, when it came to singing, dancing, stage presence and leading woman talent, was Ellie Needham as Ariel Moore, who also displayed amazing chemistry with her co-stars, whether the sexual chemistry shared with bad boy, young Elvis voice alike Josh Holliday as Chuck Cranston in "The Girl Gets Around" to the romantic chemistry with Adam, at it's best in the beautifully moonlight lit, stunning romantic ballad "Almost Paradise".
Other cast members who shone, in a cast of amazing performances, include Daniel Storey as Rev. Shaw Moore, who superbly balanced the role of authoritative town preacher with being the protective and grieving father to Ariel and husband to Vi Moore (played by Louise Grayson). His solo numbers "Heaven Help Me" and "Can You Find It In Your Heart" were stunningly sung and full of passion, honestly and emotion, only matched by Louise's Elaine Paige reminiscence tones on her solo of "Can You Find It In Your Heart" and the stunningly and cleverly arranged "Learning to be Silent" alongside Ellie and Clair Stokes as Ethel McCormack.
I also have to thoroughly praise Ashley Wilson whose talent in the role as Willard shone through, whether it was his friendly with Ren, young love chemistry with Rusty, played by Lilli Connelly (whose characters couldn't help but remind you of Grease's Jan and Putzie), his stunning country tones and loyalty in "Mama Says" and his clever, almost slapstick-like, attempts to learn to dance alongside Lilli making Deniece Williams classic "Let's Hear It For The Boy" her own.
Lastly I must mention, Amy McGregor and Georgina Willows as Wendy and Urleen, who along with Lilli form Ariel's three supportive best friends, whose friendship shone through and was up there with other great female musical friendships include those of the lead character's in Legally Blonde and Our House, with the addition of superb voices and harmonies during "Somebody's Eyes" (my guest's musical number of the night) and "Holding Out For A Hero" being up there with any great girl group and definitely standing up to Bonnie Tyler's version.
Of course it takes more than the cast to make a production this fantastic so fantastic, so I must praise everyone in the production crew, especially directors Kate and James Parkin, musical director Jamie Brown and choreographer Amber Parry for getting the very best out of all of the cast and making the best use out of the Montgomery Theatre stage, and the eight piece band who provided and maintained a superb musical accompaniment to all the numbers throughout, making sure this is a truly unmissable night out for musical fans.
Footloose will be performed at the Montgomery Theatre, Sheffield at 7.15pm until Saturday 13 July with an additional 2.15pm performance on the Saturday. To book visit www.woodseatsmtc.co.uk/book-tickets.
Performing since 1945, Woodseats Musical Theatre Company are a vibrant, friendly company who aim to present first class shows and concerts at local theatres and venues in Sheffield. For further information visit www.woodseatsmtc.co.uk.