Funny Money – 11 February 2020, Sheffield Library Theatre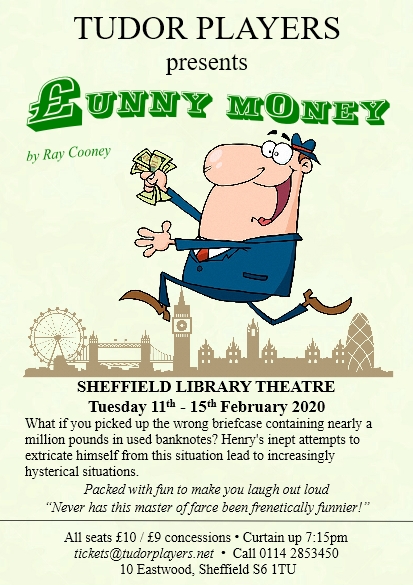 Review by Claire Chapman.
"Featuring superb comic timing and direction throughout, thanks to first time full-length production director Marcus Newman, and natural performances from the entire cast, Funny Money provides an excellent lesson in not just how to dig yourself into a hole, but a Guinness Book of Records size pit, that is just as hilarious today as when Tudor Players first performed it exactly 20 years ago.
The chemistry, friendship between and talent of the cast, many of whom who have been acting together for years, shone through from Bill Darwin as Davenport, whose performance would not be out of place in Last Of The Summer Wine, and Daniel Roberts as Slater, who between them wonderfully captured the older and slightly newer faces of CID; to Edwina Gascoyne as Jean Perkins and Andrea Howard as Betty Johnson, whose performances were reminiscence of classic female soap friendships, including Edwina mastering the art of increasingly intoxicated acting. I must also give a special mention to Anthony Maycock in his first named theatre role, who mastered the tough guy image and difficult accent required for his small but significant role.
However, out of all of the cast, it was Phil Gascoyne as Henry Perkins who stole the show and gave one of the best performances I have seen of his amateur career, in a role that he first played in the production 20 years ago and showing like a fine wine that his acting and stage presence has only got better with age. He was a true pleasure to watch as (quoting the poster and front of the programme) his "inept attempts to extricate himself from this situation lead to increasingly hysterical situations" before pulling off a summarising scene at the show's finale that even Miss Marple would have been proud of.
Funny Money is a side splitting opening to Tudor Players 2020 season, that is bound to appeal to both supporters of the company and fans of farce and theatrical comedy in general. My only criticism, and this is the fault of the script and not the company itself, is that many of the LGBT references are dated and may cause some audience members slight offence."
Funny Money will be performed at Sheffield Library Theatre until Saturday 15 February. To book visit www.tudorplayers.net
A leading Sheffield amateur theatre company for over 50 years, Tudor Players, named after Tudor Way where the Library Theatre is located, present three full length plays a year. Their next productions are Flatspin from 12 to 16 May and Sherwood: The Adventures of Robin Hood from 13 to 17 October, both at Sheffield Library Theatre. For further information and to book visit www.tudorplayers.net.