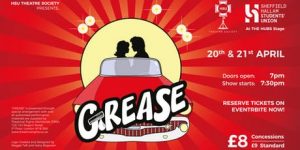 Grease – 20 April 2018, Sheffield Hallam University Students Union
During the 40th anniversary week of the original film release and on one of the first summer nights of the year it was only appropriate to be in the audience for the opening night of HSU Theatre Society's production of Grease.
The classic musical of friendship and romances and T Birds and Pink Ladies in a 1950s American high school tells the story of wholesome exchange student Sandy and leather-clad after their summer romance.
The audience, which deserved to be much bigger, had big grins on their faces from the moment the cast bust on stage with "Grease is the Word" right through to the "We Go Together" encore with the friendship between the characters, especially the T-Birds, clear throughout and proving why this is and always will be the ultimate high school musical.
The cast directed by Alyce Claire Tunnicliffe perfectly captured their characters attitudes, accents, songs and lines from the film, from those we all loved to those we had forgotten we love.
"Summer Nights" more than proved that Max Black as Danny and Lauren Spencer as Sandy had been cast as the leads not just for their looks but for their great voices and acting talent, including hitting the end high notes.
In "Those Magic Changes" Callum Haigh as Doody showed that although he might not be the greatest guitarist he does possess a great crooning voice straight out of the 1950s in direct competition with Jamie Cooke as Roger, who displayed an almost equally great crooning voice in "Mooning" but with added comedy and confirming that Roger and Jan, played by Natalie Brown are the musical's sweetest couple. I must also praise Natalie for out of all of the cast most perfectly capturing her film equivalent.
"Freddy, My love" showed off Emily Capp, as Marty, cabaret worthy voice and stage presence and made all the women in the audience wish we could go through life with the Pink Ladies as are backing singers, before "Grease Lighting" made us all want to go through life with the T-Birds as are backing singers and dancers, and confirmed that I will always have a soft spot for the character Kenickie (played by Rob Eagle).
"Look at Me, I'm Sandra Dee" not only showed that Chloe Hambling as Rizzo had the attitude needed for the role both when acting and singing but if the audience had closed their eyes during the performance it would have been hard to distinguish her version from Stockard Channing's own.
The best choreography of the night, thanks to choreographer Annie Bolstridge, came from "Born to Hand Jive" at the dance off, combining crisp hand-jiving with the characters own unique dance styles and attitudes and also giving Annie her chance to shine as Danny's dance partner Cha-Cha.
"Hopelessly Devoted to You" allowed Lauren to beautifully channel her inner Olivia Newton John with a great voice and great emotion before Max Black got his well deserved turn channelling his inner John Travolta, superbly capturing the voice, tone and emotion of "Alone at a Drive-in Movie".
Chloe Hambling's performance of "There Are Worse Things I Could Do" was the musical number of the night, performed with passion, attitude and an incredible voice that showed Rizzo's true self beneath her tough exterior and was more than worth the wait.
Though anyone who has ever seen Grease knows Sandy's makeover is coming, it was still fabulous when it did making over her look, attitude and confidence in the musical's finale, with the sexual chemistry and young love between Max and Lauren shining through and providing the perfect ending to the show, which at it's heart is a reminder of the importance of friendship, love, support and always being there for each other.
Other cast members I must mention include Andrew Wilkinson as Eugene who pulled off the ultimate specky geek from before a time when geeks were cool; Alice Connolly as Patty, who protrayed the perfect, enthusiastic, world-revolves-around character to the necessary levels of annoyance; Scott Gist as Vince Fontaine who played the role with charm, charisma and smug self-belief; Pippa Inkster as Miss Lynch who played the only teacher in the production with a seniority above her age; and the two radio voices provided by Christie Ivens and Becky Cleary, whose roles may have only been limited to "It's Raining on Prom Night" but who sung it in beautiful harmony.
If you are looking for a fun, entertaining and upbeat way to spend a Saturday evening in Sheffield I can't think of a better place to be than in the audience for this production that proved "great" as well as "Grease" continue to be the word and is a fantastic way of celebrating the 40th anniversary live for the same price or less as a cinema ticket.
There is one more chance to see Grease on Saturday 21 April at 7.30pm (doors open at 7pm) at the Sheffield Hallam University Students Union. Tickets are £8 and can be reserved online at https://www.eventbrite.co.uk/e/grease-tickets-44179621437 or brought on the door. For more information on the production email hsutheatresoc@gmail.com.
For further information on HSU Theatre Company including their forthcoming shows visit https://hsutheatresociety.wixsite.com/theatre, like on Facebook at www.facebook.com/HSUTheatreSoc, follow on Twitter at https://twitter.com/hsutheatresoc, subscribe on YouTube at www.youtube.com/channel/UCGYMkcBFIvwh9cAC_5MvHhw?&ab_channel=HSUTheatreSociety or connect on LinkedIn at www.linkedin.com/in/hsu-theatre-society-a7004035.