Hello Dolly! – 26 March 2019, Montgomery Theatre, Sheffield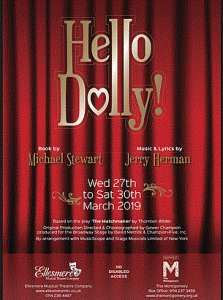 ***** I must admit that the only thing I know about the musical Hello Dolly! is the title song, so I was delighted to be invited to the dress rehearsal of Ellesmere Musical Theatre Company's latest show to discover more and get a sneak peek at their production of this classic musical.
The musical introduces the audience to Dolly Levi, the larger than life matchmaker, who meddles in love lives to ensure everyone lives happily ever after.  Until, that is, she is called upon to find a match for Horace Vandergelder, the man she has set her own sights on. The show full of Jerry Herman songs promises wonderful comedy, costumes and dancing.
This production features excellent performances from the entire cast and ensemble throughout, with crisp voices, choreography, musical numbers and direction (thanks to Mark Harris), delightful comedy and elegant late 19th century costumes, accompanied throughout by a glorious eight piece orchestra throughout.
The truly outstanding performances of the night rightfully came from real life wife and husband Jane Jefferson-Blythe as Dolly and David Jefferson as Horace, who were both made for these roles with their performances worthy of any professional production of the show, with wonderful acting, singing, dancing, comedy, accents and (especially in the finale) chemistry between them both. I must particularly focus on Jane who delightfully brought to life one of the best and most memorable musical leading ladies I have seen on stage.
In regard to the many superb musical numbers "I Put My Hand In" provided a fabulous introduction to Jane's portrayal of Dolly allowing her to shine from the very start; before "It Takes A Woman" felt straight out of a production of My Fair Lady in terms of style and allowed the singing and dancing talents of David and the male ensemble to shine through.
"Put On Your Sunday Clothes" and later "Elegance" allowed the delightful voices, comedy, chemistry, friendship (in fact almost late 19th century bromance) between Ashley Wilson as Corenlius Hackl and Danny Hawley as Barnaby Tucker to shine through, making them the perfect musical double act. I must also praise Ashley for his outstanding performance of "It Only Takes A Moment" which made me believe he is destined to play Freddy Eynsford-Hill in a professional production of My Fair Lady.
With a voice reminiscent of musical legend Elaine Paige, Leah Rhodes-Burch as Irene Molly got her moment in the spotlight with "Ribbons Down My Back" displaying the best singing voice and range of the night, full of passion and true emotion; closely matched by the last musical number of the first act "Before The Parade Passes By" which provided an excellent showcase for Jane's range, emotion and talent in what might be in the world of musicals the ultimate moving-on number.
If the "Motherhood March", performed by Jane, Leah and Sara Hibberd as Minnie Faye (whose portrayal of the character full of glee, enthusiasm and naivety put her in excellent stead for her role as Fiona in Shrek later this year) had taken place with such gusto in real life women in Britain and America would have got the vote far sooner.
As the ultimate lady in red, Jane proved why "Hello Dolly" is the ultimate musical title track allowing her inner West End star to shine through accompanied by the brilliant ensemble, at their best during this number, which when combined brought the true spirit of Broadway alive on the Montgomery Theatre stage and putting a massive grin on my face throughout.
Not mentioned above but whose brief appearance was amongst the shows many highlights, I must give a special mention to Sue Claydon as Ernestina Money, whose portrayal can only be described as a delightful cross between Annie's Miss Hannigan, Singin' In The Rain's Lina Lamont and Janice from Friends.
The choreography of Keeley Kilby (choreographing her first full show and already loved by this website as a talented musical actress) and Carolan Copley-Tucci was outstanding throughout the show but at it's very best during the timelessly stunning routine of "Dancing"; the tap dancing, ballet inspired, slapstick inspired "Waiters' Gallop"; and the comedically cleverly arranged routine of the dance contest "Polka". Their joint choreography also made me desperate for them to get their hands on the routines of My Fair Lady (I'm not going to apologise for repeatedly comparing the two shows in this review) in the future.
Ellesmere Musical Theatre Company are at their very best with this production of the timeless musical, that should be seen by every fan of the genre, would not be out of place on a professional stage and is guaranteed to make all audience members fall in love with the show and Dolly and feel warm in side for days afterwards.
Hello Dolly will be performed at the Montgomery Theatre from Wednesday 27 to Saturday 30 March at 7.15pm, with an additional 2.15pm matinee on the Saturday. Tickets are £15. To book visit http://themontgomery.org.uk.
Formed in 1947, Ellesmere Musical Theatre Company perform an annual musical at the Montgomery Theatre, Sheffield. For further information visit www.ellesmeremtc.co.uk.
P.S. I recommend staying in your seats until after the encore to witness the perfect stage kiss between Jane and David.
If you are interested in becoming a reviewer for www.lastnightidreamtof.co.uk please email lastnightidreamtof@yahoo.com.