HSU Theatre Society's The Rocky Horror Show – 17 December 2021, The Montgomery Theatre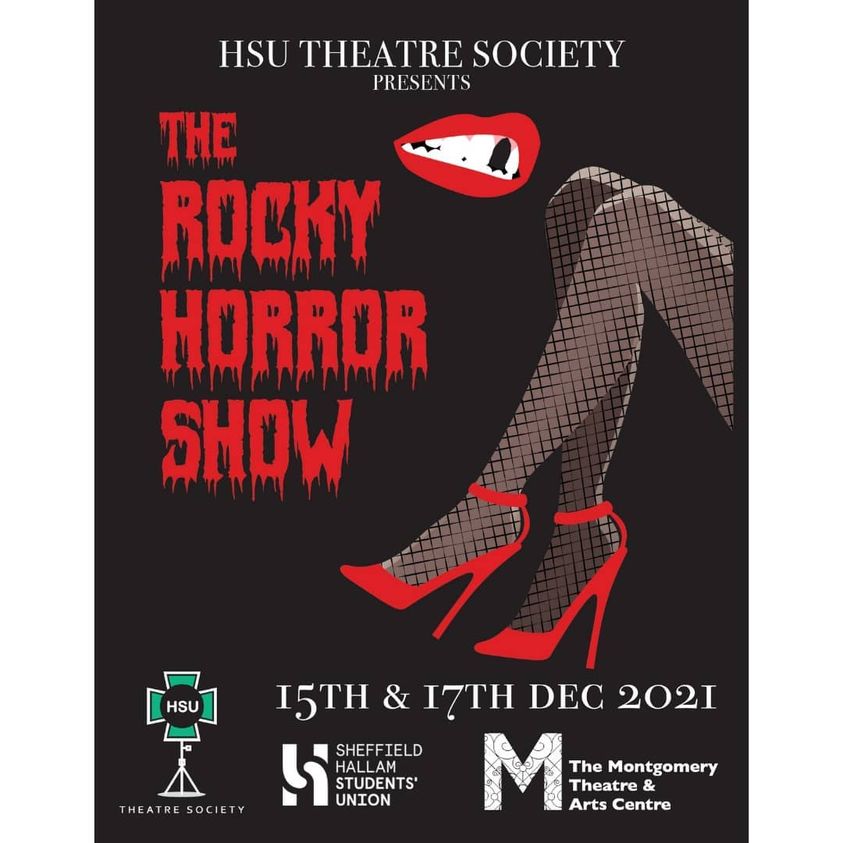 Review by Callam Fellows.
My last review written for Last Night I Dreamt Of was for a show at The Montgomery way back in early 2020. Since then a lot has happened and I now find myself back at The Montgomery as we quickly approach 2022. After feeling like I've been through some sort of time warp, it feels fitting that I should be reviewing The Rocky Horror Show.
I am a big Rocky Horror fan. I've been to see the stage musical three times, in full Frank N. Furter attire, and am familiar with the "call-outs" and the cult classic's history. This, however, was different to anything I'd been to before. This was a shadow cast production, which is in a sense a screening of the 1975 film Rocky Horror Picture Show with members of HSU Theatre Society lipsyncing to the dialogue and songs and recreating the action on screen from memory. I heard audience goers afterwards acknowledging and appreciating the difficulty of trying to replicate something like that, and it must be said that it is an impressive feat to see a show/film presented in this way.
The minimalistic scenery relied almost solely on a large cloth covered box. This box started as a church alter, but throughout the show was transformed into the tank Rocky emerged from, Brad and Janet's beds, and the theatre curtain torn down by Frank. The box was draped in a white sheet and a red sheet on top, so it somewhat resembles the iconic lips that sing the opening song, here performed via lipsync by Charlotte Bostark. The scenery was aided by the use of a projector that played the film behind the actors which proved to be surprisingly effective, especially during the lab scene. Magenta, Frank and Columbia were lined up perfectly with their on-screen characters behind them, as if they were being mirrored, and when Frank raises his hands to the heavens and we can see the descending machine on screen it looks like it is actually being lowered towards him.
The lighting was used very well, most noticeably during the musical numbers. The classic Time Warp was bright and colourful, creating a party atmosphere, and during the song There's A Light with rolling lightning flashes and the theatre descending into darkness in order to cast a single spotlight on Riff Raff appearing menacingly in the window.
The Transylvanian Trio was Terrific, combining the talents of Ella Shankla as Riff Raff, Georgia Maddock as Magenta and Laura Prendergast as Columia. Ella Shankla's Riff Raff has the right amount of rigidity, with a slow walk, shoulders hunched, and little emotion ever displayed beyond a judgemental grimace. Laura Prendergast's Columbia is the complete opposite, being over the top and emotionally explosive, ranging from giddy and excitedly tap dancing to screaming and curling up into a ball in the middle of dinner. Meanwhile Maddock's Magenta is the best balance of both worlds, being exuberant and expressive when playfully singing with Prendergast's Columbia, to being far more reserved, sombre and creepy when in the company of Shankla's Riff Raff. All three worked wonderfully, individually and as a team of weirdos.
Another stand out performance came from Elsa Novak as Dr. Scott, who was always
exaggerated, with inquisitive pursed lips and funny funky dance moves during the song Eddie's Teddy. Despite being the last character to be introduced towards the end of the story, they stole the show, only being upstaged by Greg Fitz in a black morph suit to serve as the supernatural force that navigates Dr. Scott's wheelchair around the stage. By far the funniest moment in the show.
Shaun Stone-Riley was perfect as Rocky. Despite donning a costume that left little to the imagination, he ran around the stage full of confidence. Though a character of few words, he always responded to everything around him with a look of curiosity. With the arrival of Eddie, he had a face of confusion and bewilderment, but as the scene progresses he watches those around him and finds himself learning to dance along. He performed with a great understanding of the character with a display of naivety, self-assuredness, and comedy.
A big mention must go to the director Ellie (Airport) Madeira, not only for directing such an enjoyable production, but also for stepping into Frank's heels. The audience were notified before the show that Madeira had only two days of preparation to learn and rehearse a role in the show. What wasn't stated was that this role was the part of the infamous Professor Frank N. Furter. These are uncertain times and it seems like everyday I hear of another theatre production that has had to cancel performances due to covid cases and omicron outbreaks, despite best efforts to avoid it and follow safety instructions. We are becoming more familiar and understanding and aware of these unfortunate circumstances. The reason I am writing this review now is because the original reviewer was unable to attend this performance due to covid. Sadly, the actor who was set to play Frank N. Furter was unable to take to the stage after testing positive. I hope they are okay and will get another opportunity to don the fishnets in future. I am full of admiration for Madeira and the team for honouring the famous theatre phrase "The show must go on" and being able to safely continue despite losing a lead actor from the production at such short notice. With only two days to learn the role, Madeira filled-in Frank's corset and exhibited their clear understanding of Rocky Horror. Madeira's performance was not only a good performance for someone who had to step in, but was a solid portrayal of the character regardless. All of Tim Curry's actions and gestures were imitated effortlessly and brilliantly. Madeira is someone who knows every inch of Rocky Horror and it can be seen in this performance and the show as a whole.
One of my few criticisms is that the ensemble of Transylvanians could have been utilised more. Admittedly, the source material also gives them little screen time, with them witnessing the conception of Rocky being the last time we see the Time Warping party goers. However, with the stage musical they were put to better use, known as "The Phantoms", the ensemble continue to appear throughout, notably as backing dancers in Frank's floorshow. Perhaps the Transylvanians could have continued to have appeared as ghostly spectators to the main action, similar to the ancestors in The Addams Family musical. They could assist Riff Raff in the dinner party scene with the serving of food and wine. Or merely contribute to the uncomfortable atmosphere as on-lookers equipped with candelabras or picture frames as spooky portraits. Or even as the snarling guard dogs that chase Rocky around the castle grounds.
In a printed message by the director, it says "We lost our venue, our show dates, had COVID-19 scares, COVID-19 realities and more logistical difficulties than you could
possibly imagine." With all that in mind, with the show being as successful and as thoroughly enjoyable as it was… to quote The Time Warp… it's astounding!