Jack and the Beanstalk – 20 February 2020, Darnall Education Centre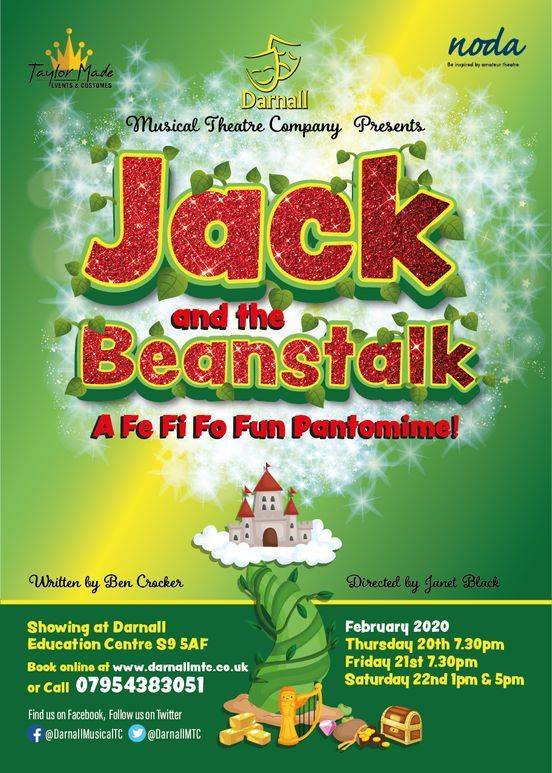 Review by Leah Rhodes-Burch.

"Last night I had the pleasure of attending Darnall Musical Theatre Company's (DMTC) Panto 'Jack and the Beanstalk'. From the offset it is clear that the whole community is behind the company and the production. We had the privilege of being placed right in the heart of the audience who were buzzing with excitement and added to our enjoyment of the evening.
I have to mention the fabulous set and costumes! Everything was vibrant and engaging and built by a team led purely from DMTC. They are a very talented bunch – watch out for the wonderful neon magical beans dance which was a highlight of the show.
The cast are made up of performers aged 17 and under (bar 1 – although she'll swear she's not that much older). This is by no means detrimental to the production – it is proof that Sheffield Amdram has amazing talent emerging through the companies, and DMTC is definitely supporting and encouraging a LOT of them.
Jack – played excellently, in true pantomime boy style by Hannah Blackwell, and his mum Dame Trot – played with wonderful finesse by Jack Taylor, are destitute and need to raise money quickly to pay off King Bertram's taxes so he can reach the terrible Giant Blunderbore's monetary demands. King Bertram – is played by Teagan Pepper who is quick witted, and has wonderful comic timing. The King does not like Jack because he is in love with his daughter Princess Demelza. Princess Demelza is played by Lucy green, whose vocal range is way beyond her years and is one to watch.
The story unfolds watched closely by the excellent good and evil duo of 'Edena the Eco Fairy' (Matilda Gunn), and 'Slime Ball' (Beth Black). The pair have great chemistry, Matilda is engaging as the fairy, showing compassion and warmth with both the cast and audience, and Beth (Slime Ball) is brilliant as the evil Henchman. Beth has a natural stage presence, and excellent characterisation that draws the audience in with lots of Boos and hisses!
I must mention two performers: firstly, Isaac Pepper who plays Trumpet – King Bertram's side-kick. He is a great talent and one of the best dancing tree's I've ever seen. Secondly, Izzie Hall who not only has to wear one of the best costumes (sorry Dame Trot, but she definitely upstages you) but has the most memorable voice of the evening! Excellent vocals for someone so young.
One thing that is very clear from the start is how much all the cast know the show, and how much they are enjoying themselves. There is not one step out of place, and smiles all round. The dancers and ensemble are pivotal in this performance and bring the stage to life.
The choreography of the show created by Sara Kitchen is perfect. The direction by Janet Black, is natural and seamless, with a clear intuition and experience of all things Panto.
Jack Taylor who plays Dame Trot, has the wonderful dryness expected by a true panto Dame, and is very cheeky with the audience who join in with him all in good jest!
My standout performance of the night is Simple Simon, played by Natasha Blackwell. Natasha has a natural stage presence, that is both believable and extremely funny. She plays the side kick to Jack and Dame Trott effervescently. Her love for Daisy the cow (played wonderfully by Neeve Chapman and Isabelle Stevens) is heart-warmingly good!
If you are stuck for something to do this weekend at the end of half-term, get tickets for this excellent family panto – you will not be Fi-fi-fo-fummed!!!"
For further information on Darnall Musical Theatre Company and to book visit www.darnallmtc.co.uk