Joseph and his Amazing Technicolor Dreamcoat – 5 December 2018, Montgomery Theatre, Sheffield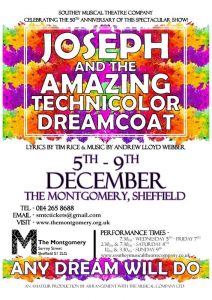 ***** I have a surprising confession as a theatre reviewer, I am a Tim Rice / Andrew Lloyd Webber musical virgin, but what better time to change this than combined with celebrating the 50th anniversary of Southey Musical Theatre Company at the opening night of their production of Joseph and his Amazing Technicolor Dreamcoat.
Retelling the Biblical story of Joseph, his eleven brothers and the coat of many colours, this production is a phenomenal West End quality production that Tim Rice and Andrew Lloyd Webber will be proud of and delighted that they granted the company the opportunity to perform.
The opening number of "Any Dream Will Do", that gave Jason Donovan and Philip Schofield's classic 1990s interpretations more than a run for their money, showcasing from the start Lee McCusker as Joseph's incredible voice sweetly supported by the wonderful, technicolor tie dye t-shirt wearing children's choir, provided an awesome start for an amazing evening of musical theatre.
"One More Angel in Heaven" brilliantly and hilariously combined the two contrasts of the mourning for the lost of Joseph when his father Jacob, played by Robert Curr, was on stage and the line dancing celebrations, complete with perfect cartwheels from the wives, in celebration as soon as he left."Potiphar" was, the biblical odd couple, of Malcolm Mason as sugar daddy Potiphar and Sophie Cheetham as his wife's moment in the spotlight, with Sophie especially shinning as the hilarious 1920s flapper style flirty seductress.
Lee performed the iconic "Close Every Door" with true emotion, pain and passion, further showcasing his incredible vocal range, before the first act ended with me loving the unexpected swinging 60s climax to "Go, Go, Go Joseph".
The children's choir had their wonderful moment in the spotlight without the adult company at the start of the second act, with their sweet and wonderful voices, enthusiasm, friendship and talent shining through, before at the climax of  "Pharaoh's Story" the narrator played by Heather Reynolds got to show off the full incredible power of her voice.
I truly loved the rhine-stone decorated Elvis-inspired Pharaoh (from one king to another), played by Jon Warburton, who truly captured the voice, stage presence, persona and hip thrusts required in his performance of "Song of the King"; before "Those Canaan Days" transported me to the musical Fiddler on the Roof with Robert especially confirming he would be superb in the role of Tevye; and in a complete contrast of styles "Benjamin Calypso" showcased Robbie McGann as Judah's brilliantly unexpected reggae voice supported by his brothers.
The finale of the show itself not only made me want to download the "Joseph Megamix" as soon as I got home, mega-mixing all the fabulous songs and choreography from across the production, but also confirmed that Lee truly knows how to rock both an audience and a coat of many colours.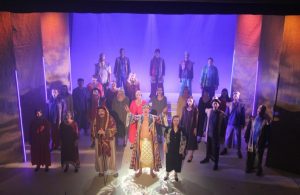 My stand out performances of the night came from Lee as Joseph, who possessed all the right ingredients to be a Broadway star, with a fabulous voice, stage presence, acting ability and helpful in this role a fabulous body to; and, Heather as the Narrator, who although maybe due to early problems with her microphone or growing confidence was quiet at first, by the end of the first act she was thoroughly proving her worth, displaying a pure and beautiful singing voice, and performing the role with thoughtfulness, motherliness, emotion, support and where needed a sense of humour, cleverly blending herself into all of the scenes with enthusiasm and delight, even getting to munch through a packet of crisps on stage where the brothers starved around her.
From the production team, all of whom should be exceptionally proud of this production, I must give a special mention to director Adam Walker and assistant director Gina Townsend who proved they are just as hugely talented off stage as on.
I also have to praise Janet D' Roza and Katie Rhodes in Wardrobe, not only for the hundreds of costume changes, and having to make 35 pairs of white trousers but for Joseph's Technicolor dreamcoat, one of the iconic musical costumes that on stage was truly amazing. Please note that for only a £1 children can have their photograph taken in the actual dream coat on stage during the interval.
This production is a must see for fans of musicals, both new and old to the show, not only providing the perfect start to the festive season but also confirming itself as my musical of the year by a mile. Featuring incredible musical arrangements and choreography, across a range of music and dance styles, vocals, dancing and attitude from all involved, from the main cast to the wives and brothers and the wonderful young choir performing throughout.
As someone who lost their Lloyd-Webber virginity last night, this production has made me look forward to his many other musicals being brought to the Sheffield amateur theatre stages next year, though they will have a lot to live up to as with their production Southey Musical Theatre Company have gone from strength to strength to musical perfection, and left me thoroughly converted to Joseph.
Joseph and his Amazing Technicolor Dreamcoat will be performed at 7.30pm on Thursday 6 and Friday 7 December, 2.30pm and 7.30pm on Saturday 8 December and 12noon and 3.30pm on Sunday 9 December. All tickets are £15. To book visit http://themontgomery.org.uk.
Southey Musical Theatre Company is a Sheffield based amateur theatre company producing everything from full scale shows to intimate concerts. Their next production will be 42nd Street from 22 to 25 May 2019 at the Montgomery Theatre. For further information visit www.southeymusicaltheatrecompany.co.uk.
P.S. Anyone with a phobia of snakes may want to close their eyes shortly after Joseph is put in the well, though by doing so you may miss out on the camel.